PoS is one of the few most advanced modules in Odoo, has now become more advanced with the introduction of the Odoo 15 version as it is packed with bizarre features, which are designed, taking the current users requirements into account.
With the PoS module, you can effectively manage numerous stores and shops at the same time. In this blog, we will discuss deeply the latest features introduced in Odoo 15 PoS module.
Odoo 15 PoS module is rich in features and tools, which help streamline the process and achieve maximum efficiency for your business. This module gives you real-time data on product movement in your stock. It also featured separate features to manage shops and restaurants easily.
New Options for Payment

Odoo 15 PoS module has provided us with additional features to make the payment process easy for you as well as customers. The consumers can use multiple options given in the module to make the payment. The feature allows the customers to make the payment using options such as Cash, Check, Credit card.
Odoo 15 PoS module allows you to add additional options for payment based on the locality of your business or customer demands. Additionally, it is quite easy to add and configure new payment methods using this updated module. You can pick payment method options from the configuration menu as you can see in the dashboard as highlighted in the screenshot given below.

To choose the payment methods, you need to click on payment methods as shown in the screenshot given below.

The create button, which is mentioned in the above image, helps you create a new payment method. The configuration page will guide you to generate a new payment method as you can see in the screenshot shown below.

Cash rounding is a new feature for payment configuration in the PoS module. It is used to depict the smallest coins of a specific currency through which you can make the payment by cash. You need to go to the setting if you want to enable this feature as highlighted below.

Click on the Cash rounding option to activate this feature as displayed below.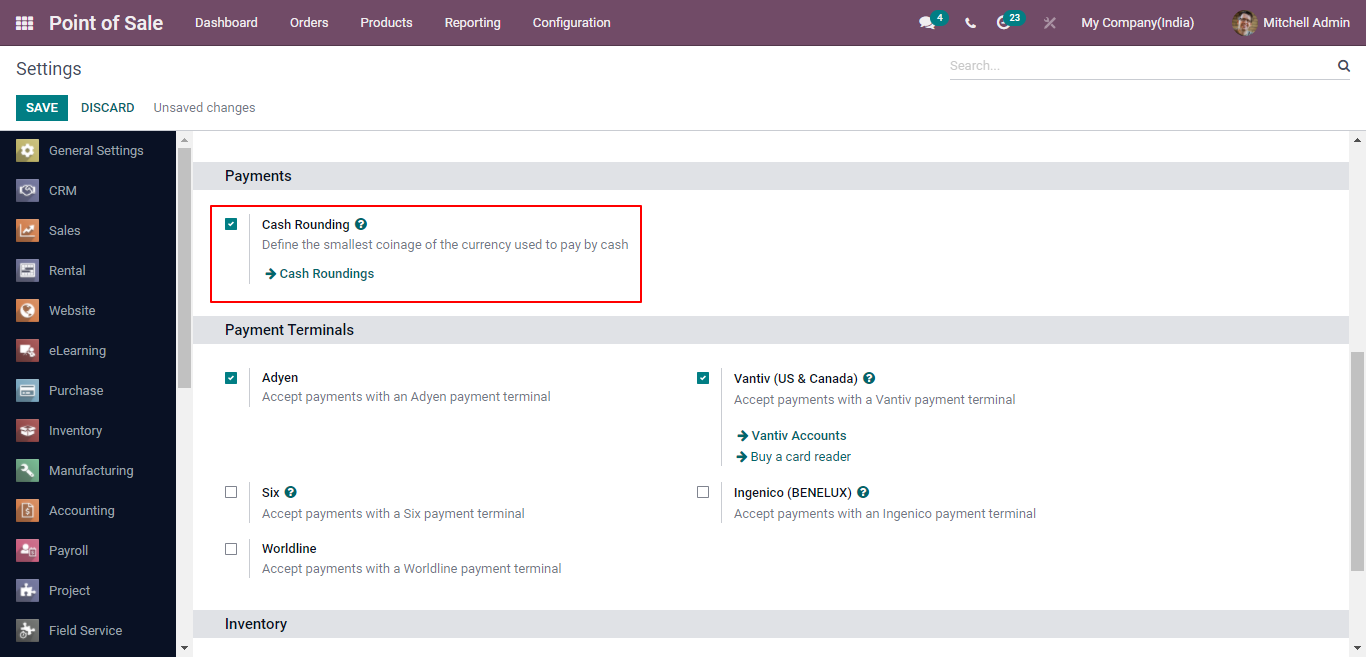 The invoices are generated automatically once you confirm the purchase. Later on, the printed invoices will be sent to the customers to make the payment. In addition, the accounting module can be integrated with the PoS module to gather all the crucial data regarding customer's payments. The process makes bookkeeping much easier for you. Since the entire process is run automatically, there is no fear of losing data during book entries.
Discounts
The PoS module can be used to raise discounts on products. Discounts can be used to increase revenue within a fleeting time. It is extremely easy to set up Discounts with Odoo 15 PoS module. Setting up Discounts is easy with the Odoo 15 PoS module.
Discounts are a must to catch customer attention to products and it is a useful tool to increase revenue quickly. With Odoo, managing the Discount process gets much easier.
Customer Programs
The PoS module owns distinctive features, which are designed to handle the customers as well as loyalty programs. It also gives you the right to register your customers to it so that you can recognize them individually and serve them with good service. You can make registration of your customers by providing their details like phone number, Mail ID, and so on. This feature allows you to keep a watch on your customers and their buying habits, which helps you to offer them lucrative discount offers based on their likes and dislikes towards specific products.
Odoo PoS module includes Loyalty points or Loyalty cards allowing you to give your customers loyalty points as a reward. In addition, you can exchange them for gifts and discounts. They can earn these points depending upon their products or by order or the sales amounts.
Features for Shops and Restaurants
The Odoo 15 PoS module possesses a bunch of features specially designed for shops and restaurants. The feature which is developed for the shops enable you to manage your store in an effective way. The PoS module allows you to have full access to your shop as well as each  movement of the employees. Since you have direct access to the cashier, it is quite easy for you to eye on the income rates and manage your cashiers in a proper manner. In addition, it also allows you to take total control of inventory processes.
The restaurant feature serves you an eagle eye through which you can easily view the entire process of your restaurant  from the customer's entry into the kitchen to their exit. Everything can be administered accurately with the use of the Odoo PoS module.
Every tool in the feature ensures effective restaurant management. Besides, you can manage and arrange tables in an attractive way to catch customer's eyeballs. You can set arrangements for the tables as per the customer's imagination. Odoo gives you a complete view of the table layout as mentioned in the screenshot given below.

There is a kitchen Screen feature that proved to be effective in restaurant management. It helps your entire staff and cooks to check every customer's orders and their food choices precisely and serve them accordingly. It is also useful for the customers as it gives updates on their ordered cuisines. 
Integration
Odoo is a great platform for integration. The PoS module can be easily integrated with the inventory module, which gives direct access to the inventory data to plan your sales. Moreover, generating customer's invoices can be carried out effortlessly with the help of the Sales module in a few clicks.