ERP vs MRP
Key Contrast Between an ERP Versus MRP

Almost everyone in the software industry is familiar with ERP or MRP system. Besides, one can also collect information from Google about the features both systems belong to. Albeit there is no vast difference between these two. As a consequence, users find themselves in a puzzling situation during the selection process.
Choosing one is indeed time taking or you can call it an irritating process as both are equipped with bizarre features and used largely by the manufacturing industry. We are going to learn about what is MRP and ERP systems in detail.
Let's take a quick look at the difference between ERP and MRP systems that help understand which system is the best suitable to meet your specific business needs.

ERP vs MRP: Top Differences

So, how ERP Differs from MRP? Let's explore s
MRP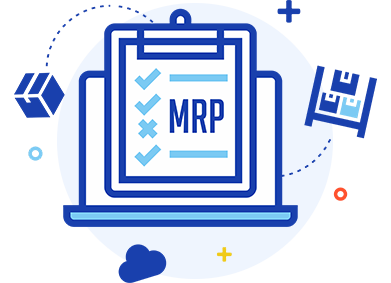 Actually, both ERP and MRP systems deal with manufacturing operations. As a matter of fact, that the ERP was originated from MRP. As the use of MRP software increased, the demand for computers also increased in the manufacturing industry.
The new computing technology turned out to be a boon for the MRP system. With the help of this technology, it could easily manage cost reporting and materials in the manufacturing operations. MRP plays a very crucial role in the production planning. With the advancement, MRP (Material Requirements Planning) was replaced with MRP II (Material Resources Planning).
MRP is widely used to handle manufacturing processes for proper operations planning, scheduling, and accurate material management. It was specially developed to give a huge boost to the manufacturing industry. It involves capacity planning, scheduling, shop floor control, and precise material calculation. MRP II provides real-time data about products, which helps understand the market thereby raising business profit.
More about MRP

MRP is a specific business software

It is not so expensive as ERP




It has limited users as compared to ERP




It has limited access to financial activities and CRM.




Best suit for manufacturing industry and hold full control over manufacturing processes.

ERP




ERP (Enterprise Resource Planning) is a multi-tasking system used to share information with the various department of the company, which improve decision-making. It is also referred to as business management software. A bundle of integrated applications of ERP is helpful to collect, store, and manage data with ease.
It automates and integrates all the systems across an organization that make core business processes run smoothly. It covers all aspects of customer relationship management (CRM) from ordering through payments, including the financial side of the business that the customer never sees. It's responsible for scheduling operations, keeping inventory records and financial data.
ERP is a few steps ahead of MRP when it comes to precisely managing the company's resources and key functionalities. Significant areas of business such as purchases, sales, manufacturing, inventory control, services, supply chain management, and human resources can be easily integrated by ERP software systems, which remodels business operations and streamline the flow of information across the different units of the organization.
After the implementation of ERP system into your business existing system, every department is allowed to access the latest updates on sales and purchases and can share with one another. Moreover, you can also analyze the performance of each area resulting in enhanced productivity.
More about ERP Software

It is a fully integrated system

ERP can perform every task while MRP is more manufacturing-centric.

It also defines business processes.

Now, the question arises that which system is going to be beneficial to your organization. MRP or ERP?

Every system has some proficiencies as well as drawbacks. The same applies to ERP and MRP systems. The question is about the selection between these two systems. The answer is so simple. It depends on your business requirements. ERP/MRP systems training is necessary to manage the tasks smoothly.


Konsultoo is a US-based company providing a wide range of Odoo services across the world is the right place for the best ERP solution.