Odoo 15 version comes with a lot of new updated features for each module of Odoo. Just like other Odoo apps, Email Marketing has got top-notch features that will be discussed in this blog.
Email Marketing is one of the few most advanced applications of Odoo, which is generally used to raise sales by connecting with more customers. It also helps plan new business strategies as per the current business scenario, which will result in increased leads and customers fulfilment as well. The leads can be turned into customers with the assistance of Email Marketing.
Easy Configuration and Sending Mails
Email marketing is necessary to reach out to maximum customers. The new features in Email Marketing have opened the door to new business opportunities. You can view the Email module given below.

This module allows you to send emails regarding the product updates to your customers that help keep the consumers in constant touch with your company because they get regular updates about their favorite products. In addition, you can make your communication system more effective using this feature. On top of that, you can even track their buying nature. 
Email Marketing app has top-notch user interface allowing you to create emails and send them to your customers without any hassle.
Just click on the create button given in the Dashboard to create and configure mails for sending your customers as indicated below.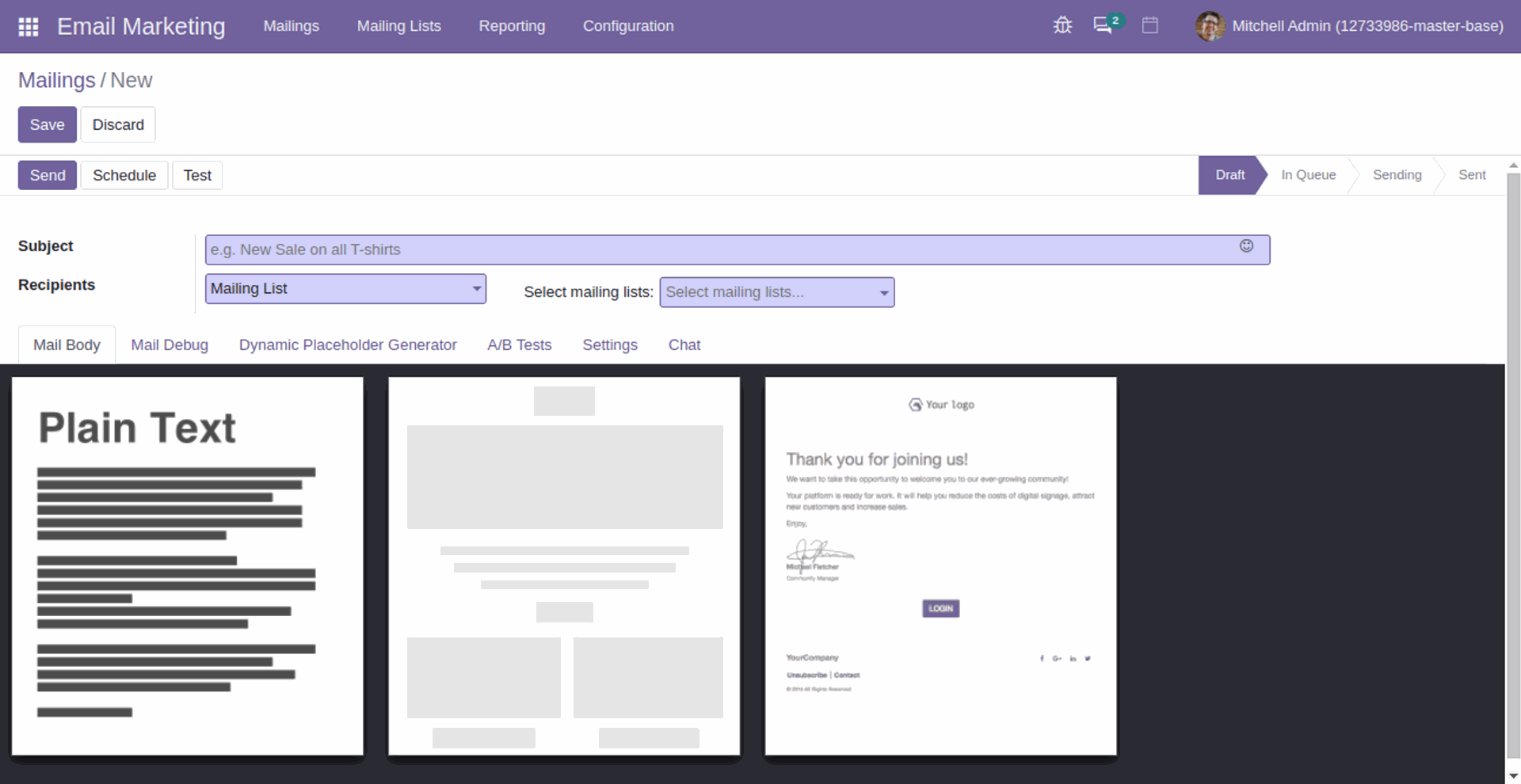 The configuration page permits you to create emails and send them to your regular customers. Additionally, the advanced features in the configuration page are remarkably effective in making attractive or professional emails for your customers. Such emails will definitely get favorable response from the customers. Hence, emails are a significant factor in remaining in touch with them.
How Will You Do This?


Click on the Select mailing lists in order to add mailing lists as shown in the image given below.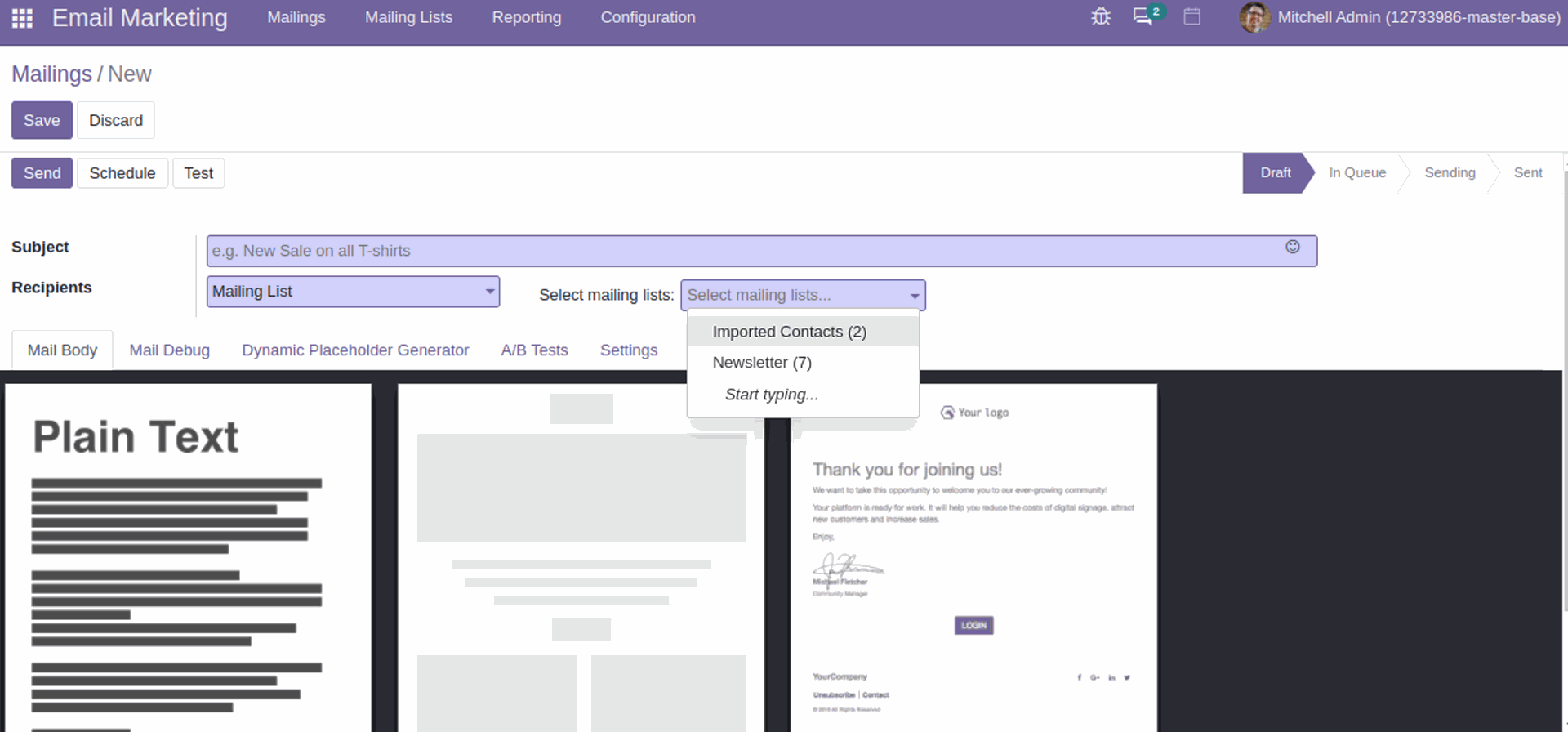 Different types of mailing templates are provided to you to make the unique design of your mails as shown below.
Each template is equipped with unique functionalities. Just choose from the list and you are enabled to make the necessary changes to your product to give it a new look. You are allowed to configure the mail to get maximum customer attention.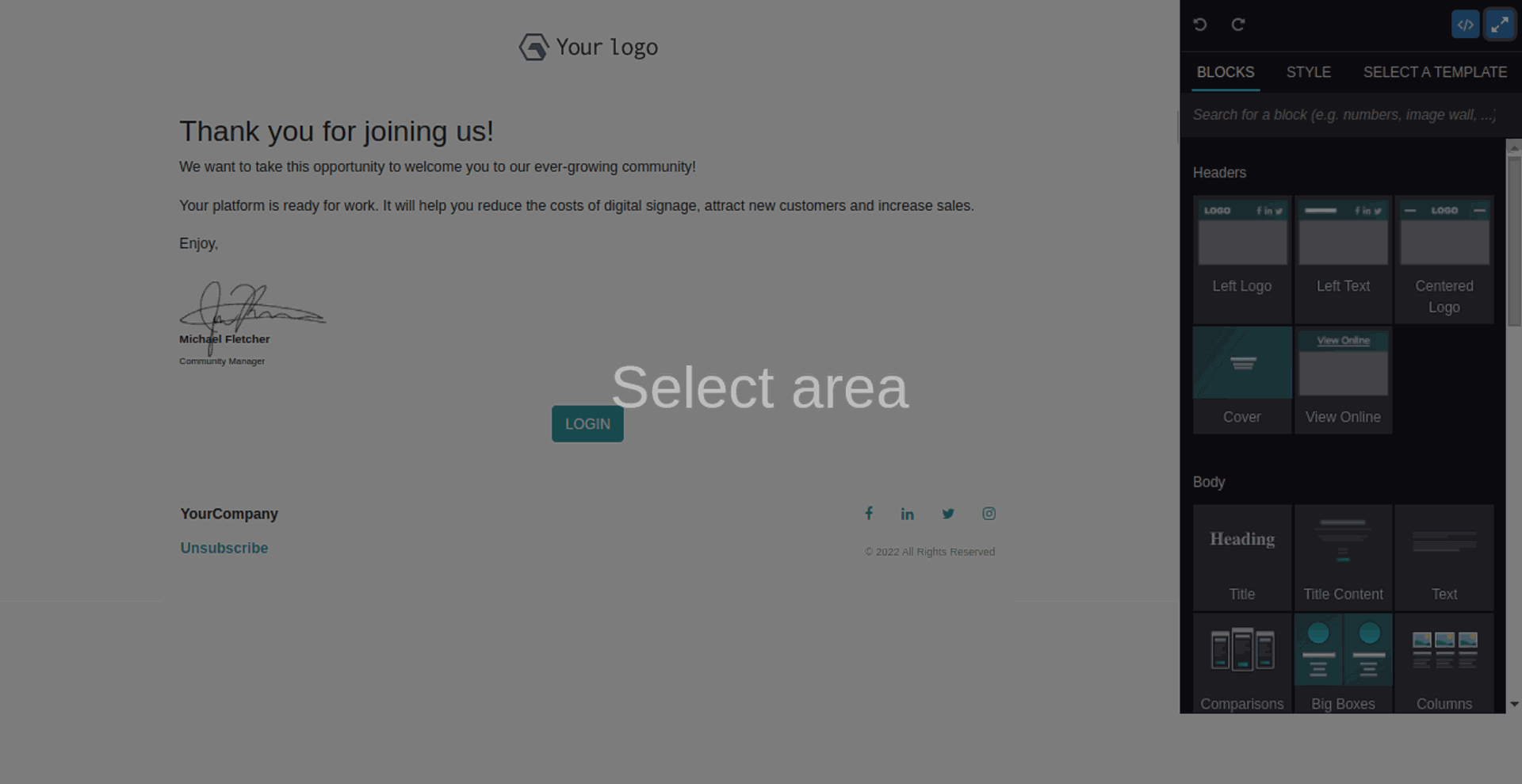 The Block part is amazing in Odoo as it helps change everything from the logo of your company to text style. Just do drag and drop to edit your mail. The blocks are classified into various parts like Headers, Body, Marketing content, inner content, and footers. Each block has a different style and functions that you can easily configure.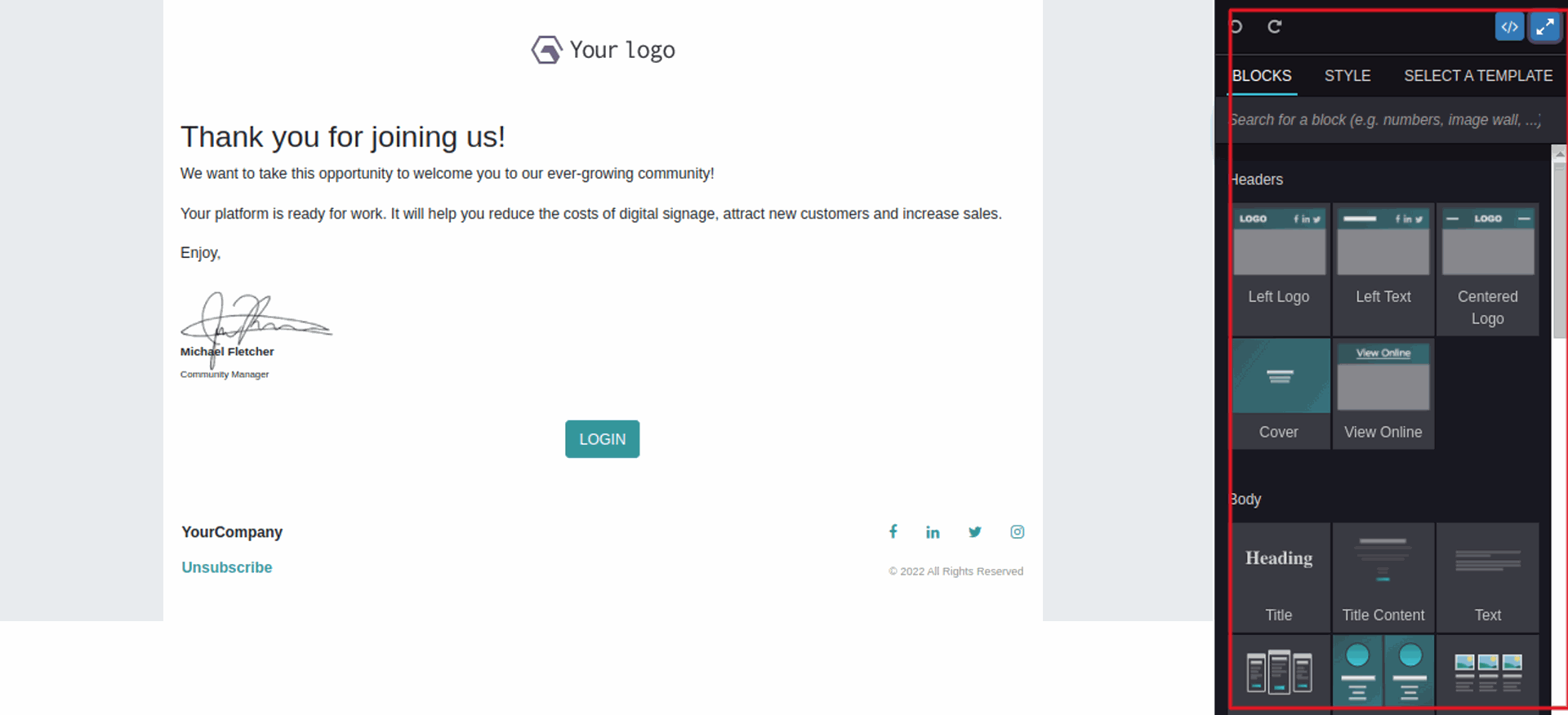 Use the style to change the chosen style and make them more attractive to the customers.
The block structures are useful in website making. Once the configuration completes, you can click on the Save button and the configuration will be saved automatically. Once it is saved, you are able to send it to the customers.
Email Marketing also helps schedule mail sending so that you can avoid clutter and recheck all the information you fill up in the mail. You can spot the schedule for the Schedule button as shown below.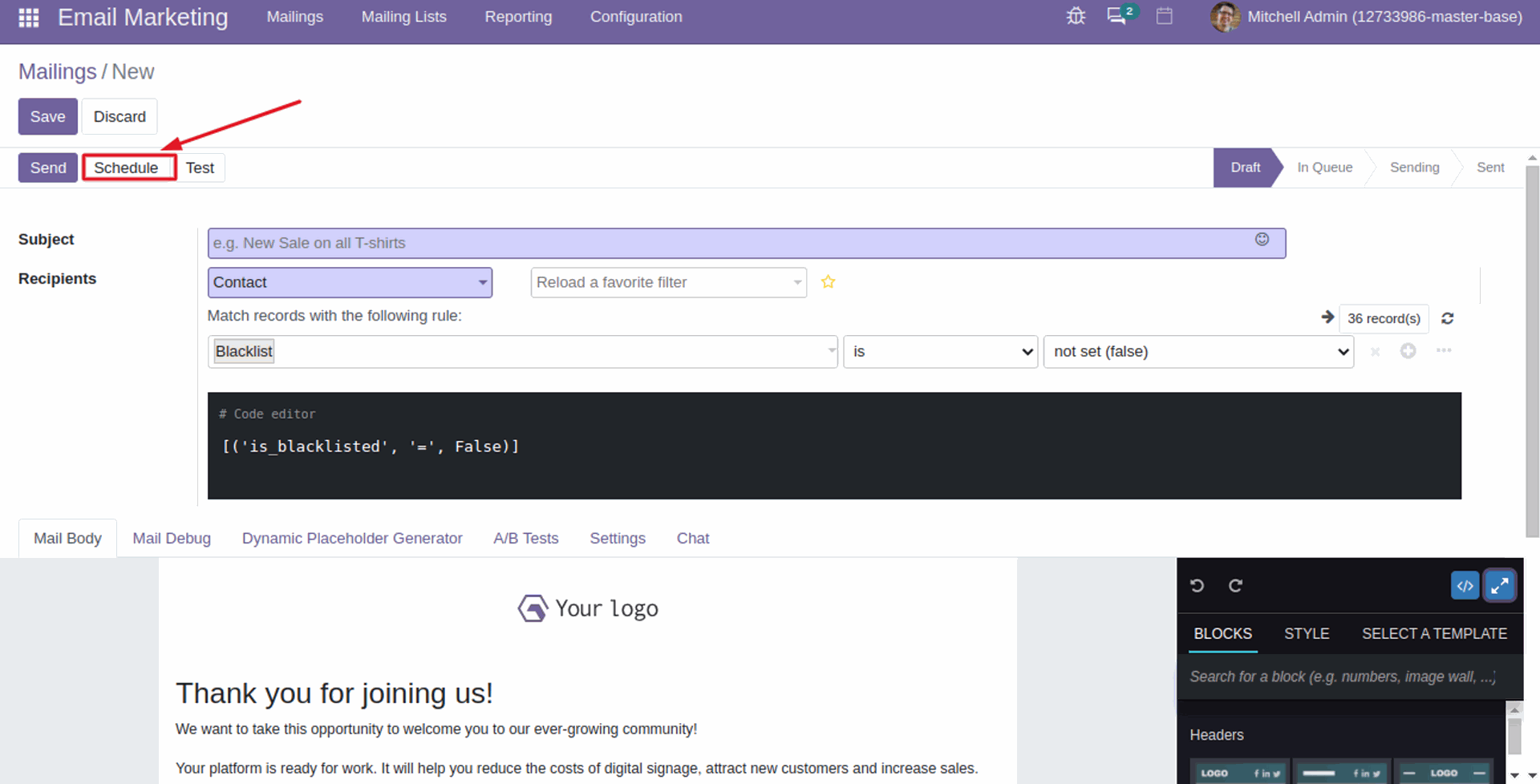 After clicking on it, you will find a small configuration tab to schedule and send mails as displayed below.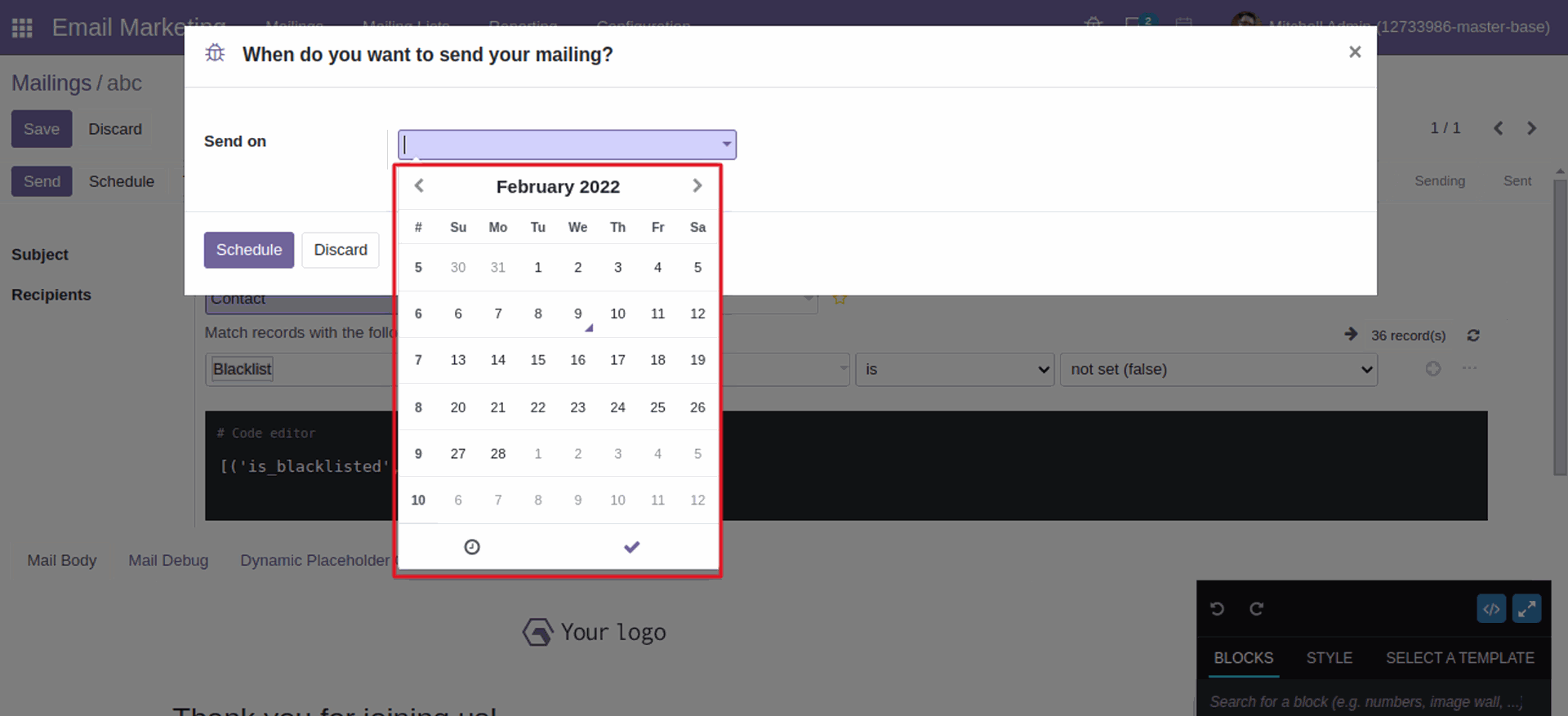 Mailing Campaigns


You have to activate the Mailing Campaigns from the setting tab for the configuration before going ahead with the procedure. It is highlighted in the screenshot given below.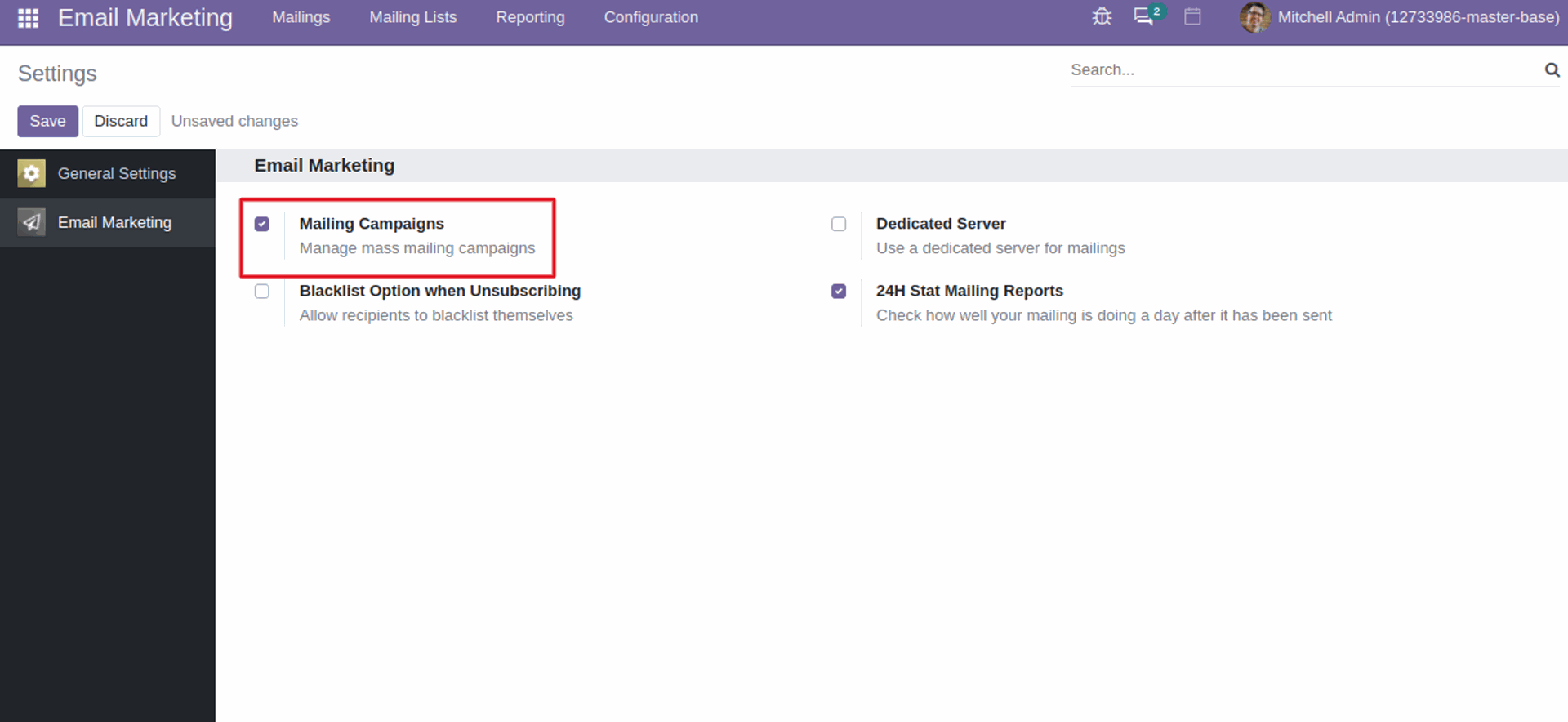 The question here is how to create a new Mailing Campaign? All you need to do is to go to the campaign tab and click on the create button as shown below.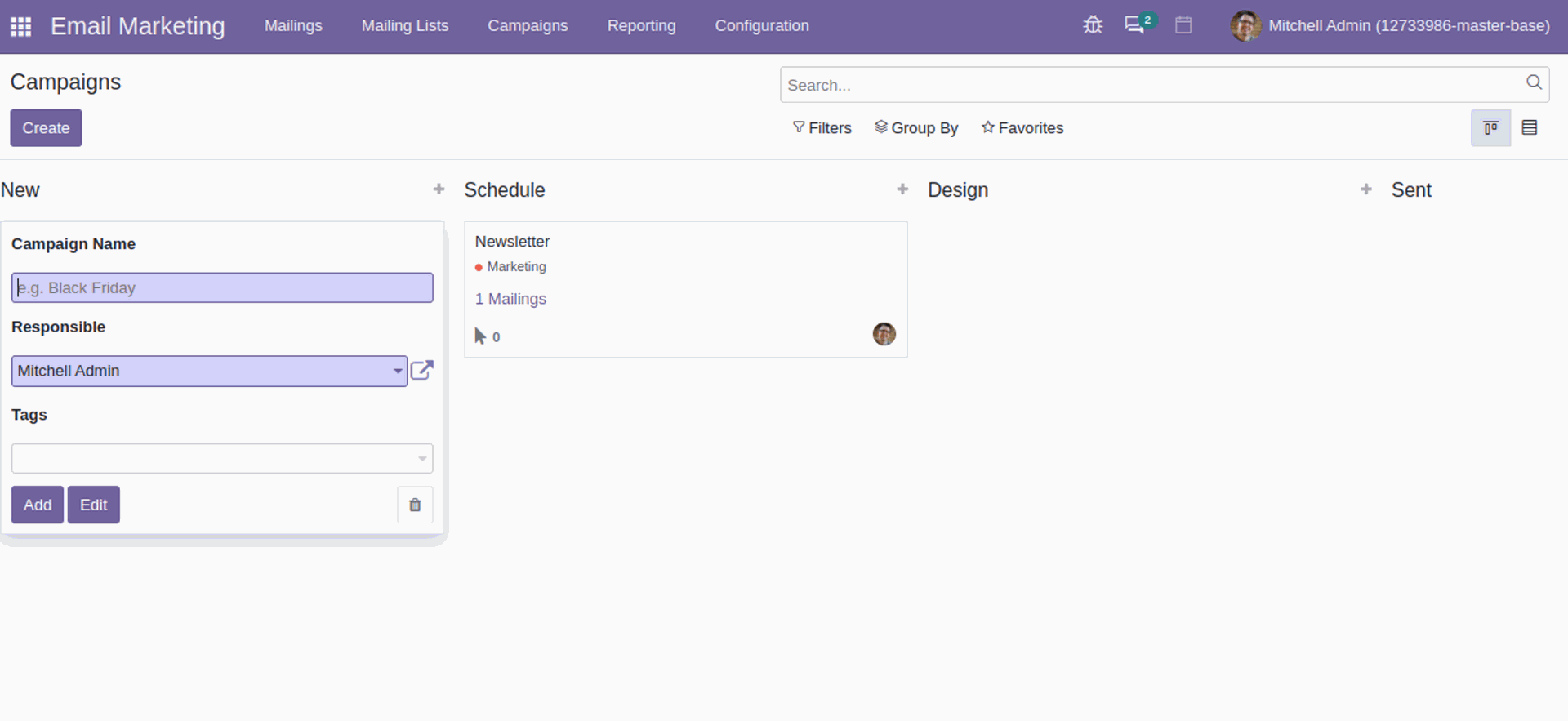 Use the create button to create a new campaign. You will have a configuration tab to configure the campaign  as highlighted below.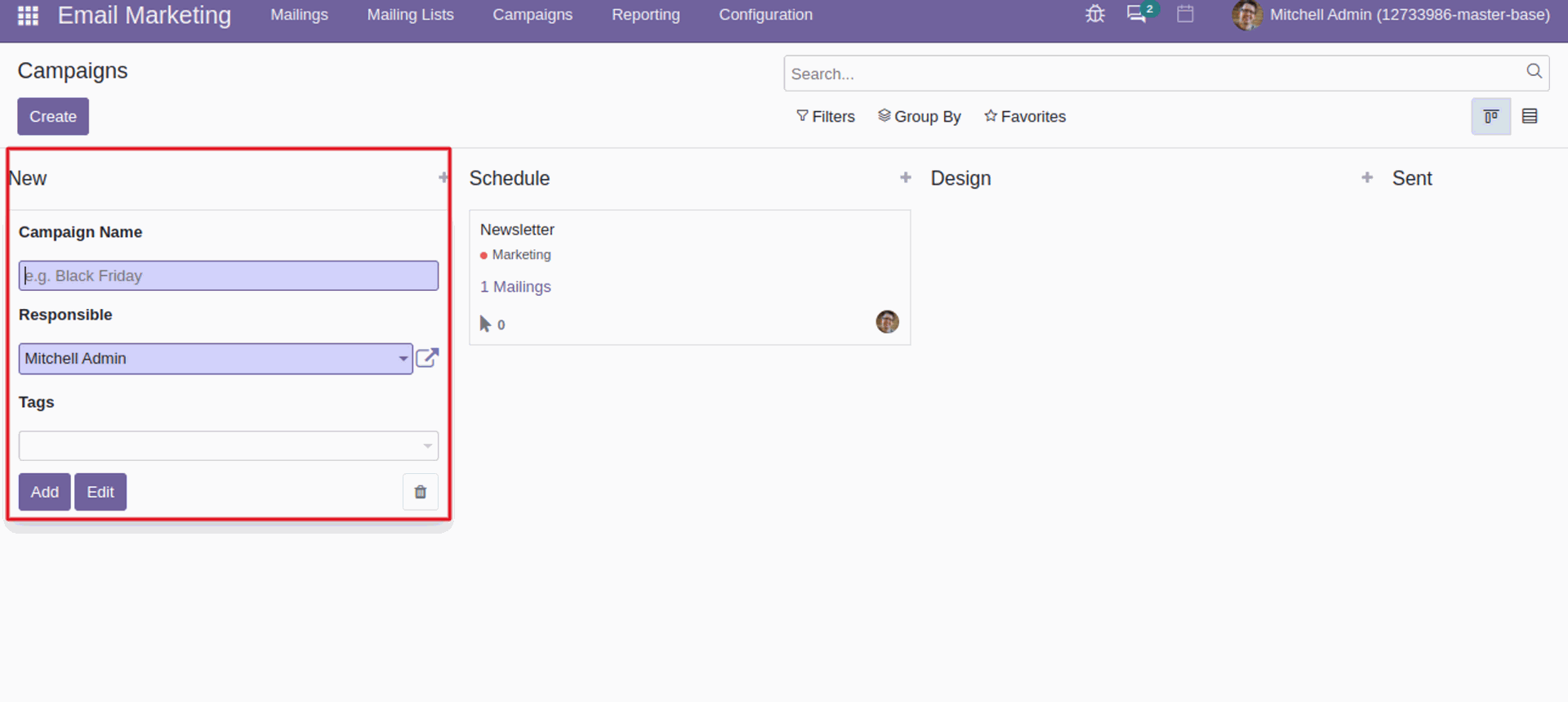 Later, enter your campaign name as well as the person who will run the campaign. After the completion of configuration process, you can click on the Add button to save the campaign. As soon as you save campaign, click on it for the configuration and send emails to your customers as indicated in the screenshot given below.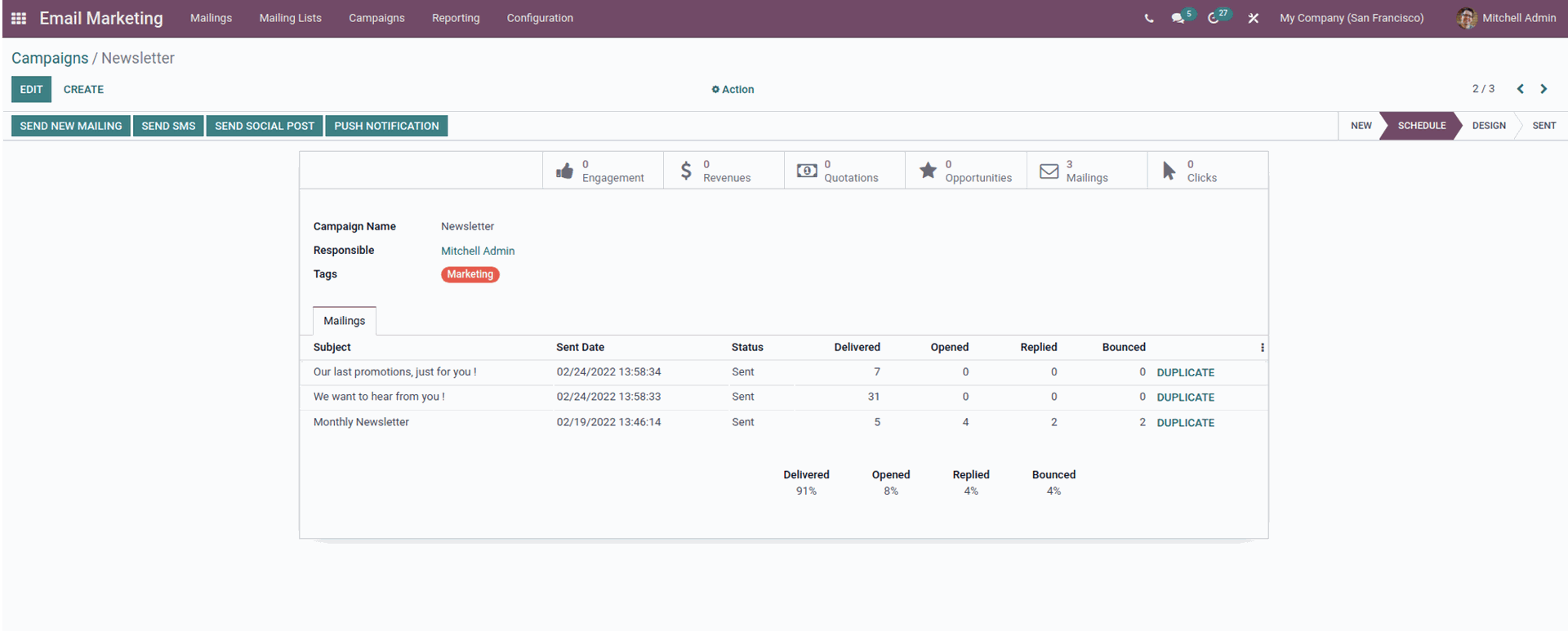 You can pass on the information through Email, Social post, and put notifications as shown in the screenshot given below.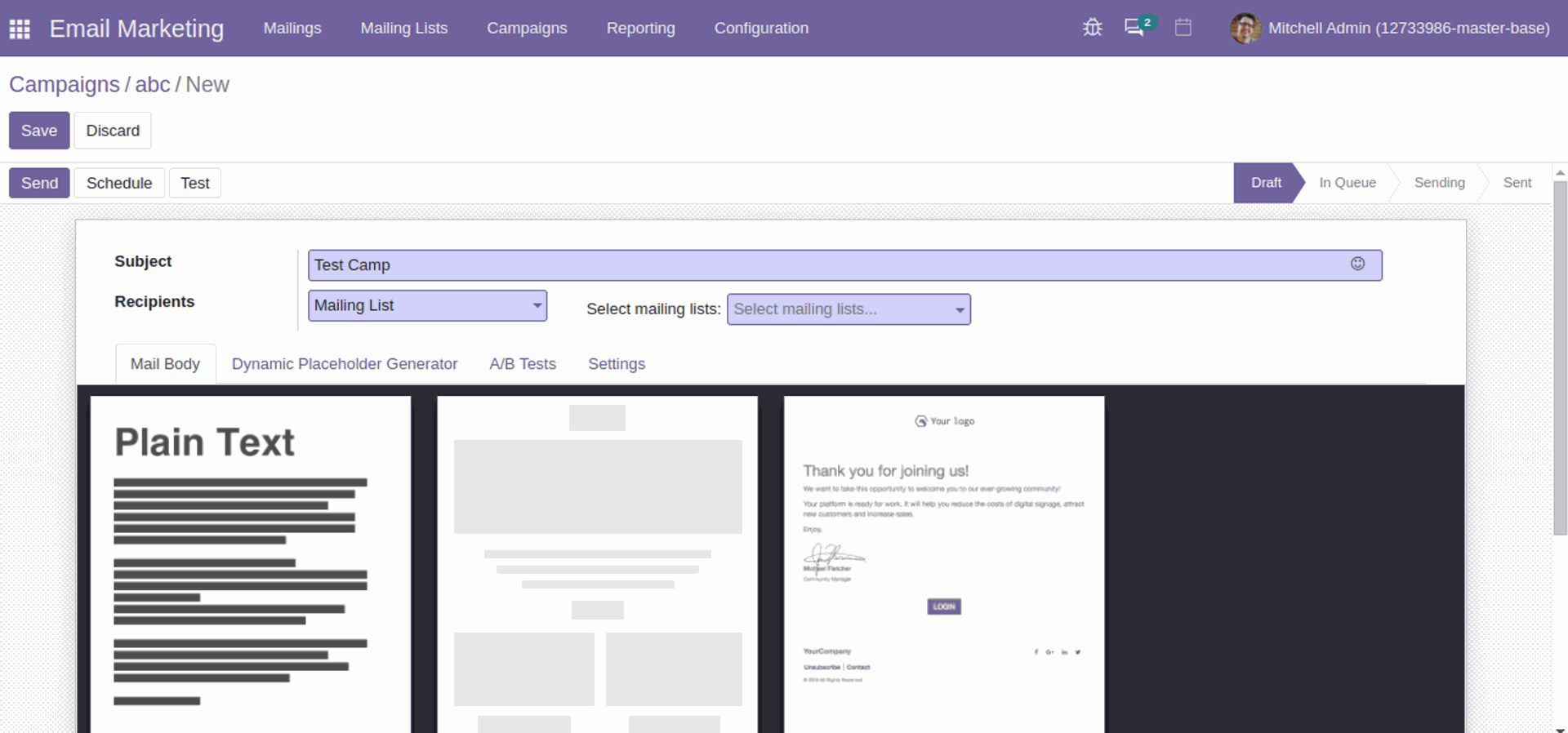 In order to send the information by mail, simply click on the Send New Mail Key. The configuration page allows you to configure and send your mails as you can see in the screenshot given below.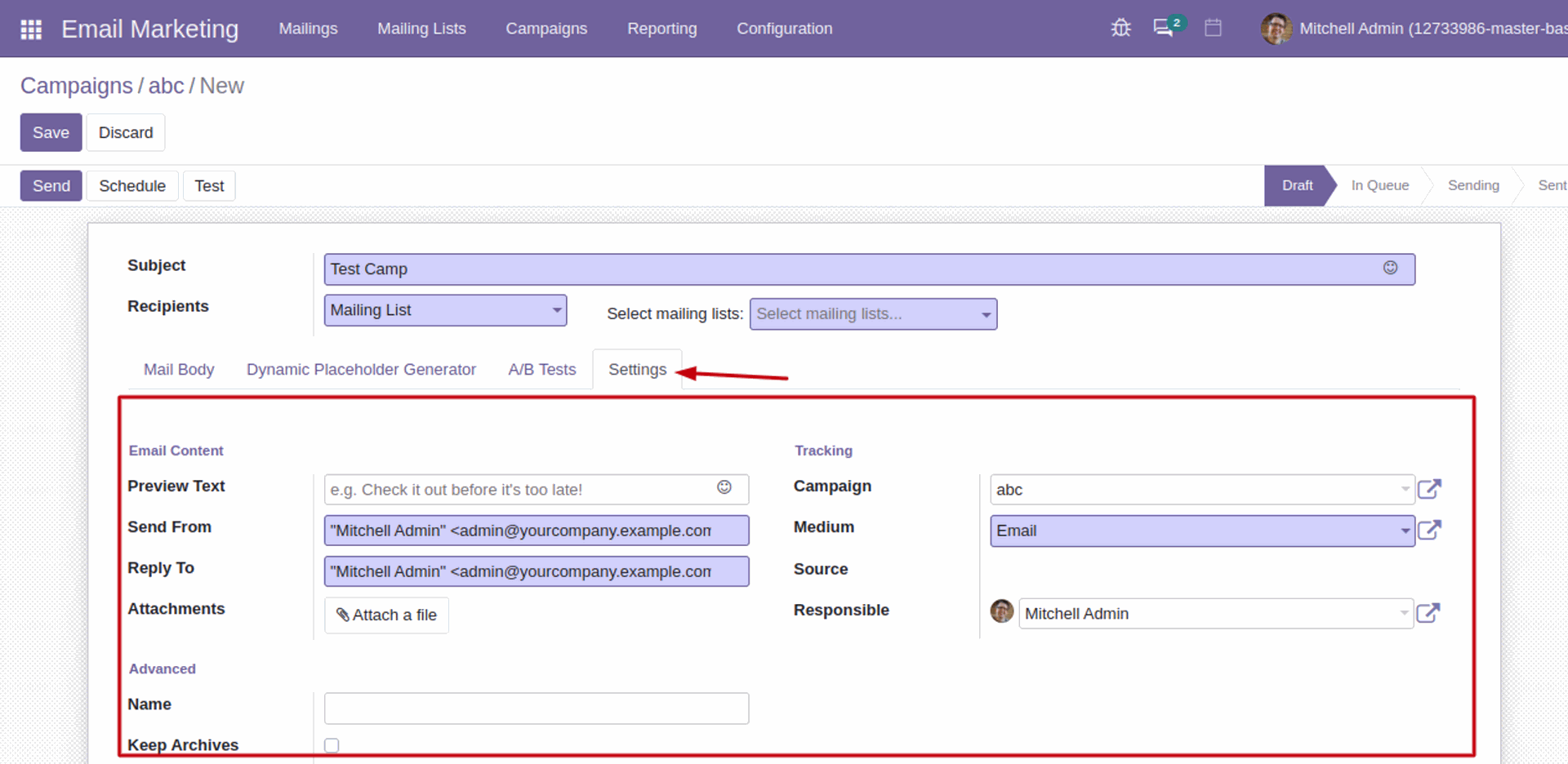 Additionally, you can edit and configure your mail from here with the purpose of sending it to different recipients. After clicking on the settings tab, you are able to use advanced setting options on the mailing.
There are a few advantages also like you can change the accountable person for the mail and sender as well. Using the attach files option, you can easily attach a file. After configuration, click on the Send button to send your recipients a mail. Besides, you can get live updates on your campaign and emails.
This module is very effective in managing your business effectively. The advanced mailing features of Email Marketing help send and customize your emails easily. With this application, you can send emails to anyone and in any corner of the world. Moreover, you can save every single mail for your personal review and make further changes.
Conclusion
Email Marketing is indeed a wonderful module offering you an elegant mailing structure which provides the customers with proper details of your business, thereby attracting more customers to visit website and buy your products.