Odoo 15: Great! Now It's Possible to Edit Graph Views Using Odoo Studio
Prior to Odoo 15 launch, we got fresh updates that the editing of graph views is possible with the help of the studio from the front end, which could not be optimized in Odoo 14 version.
Odoo 15 version has made it amazingly easy for the users by unveiling recently developed features that can edit graph views with Odoo studio.
Expected Changes
There are three types of graph views available in the studio called Line, Bar, and Pie, which can be edited without a hitch using the studio in Odoo 15 edition.
Sorting: Ascending, Descending 
Sorting functionality has been updated for Bar and Pie through which users can keep the graph views either in ascending or descending position depending upon their needs.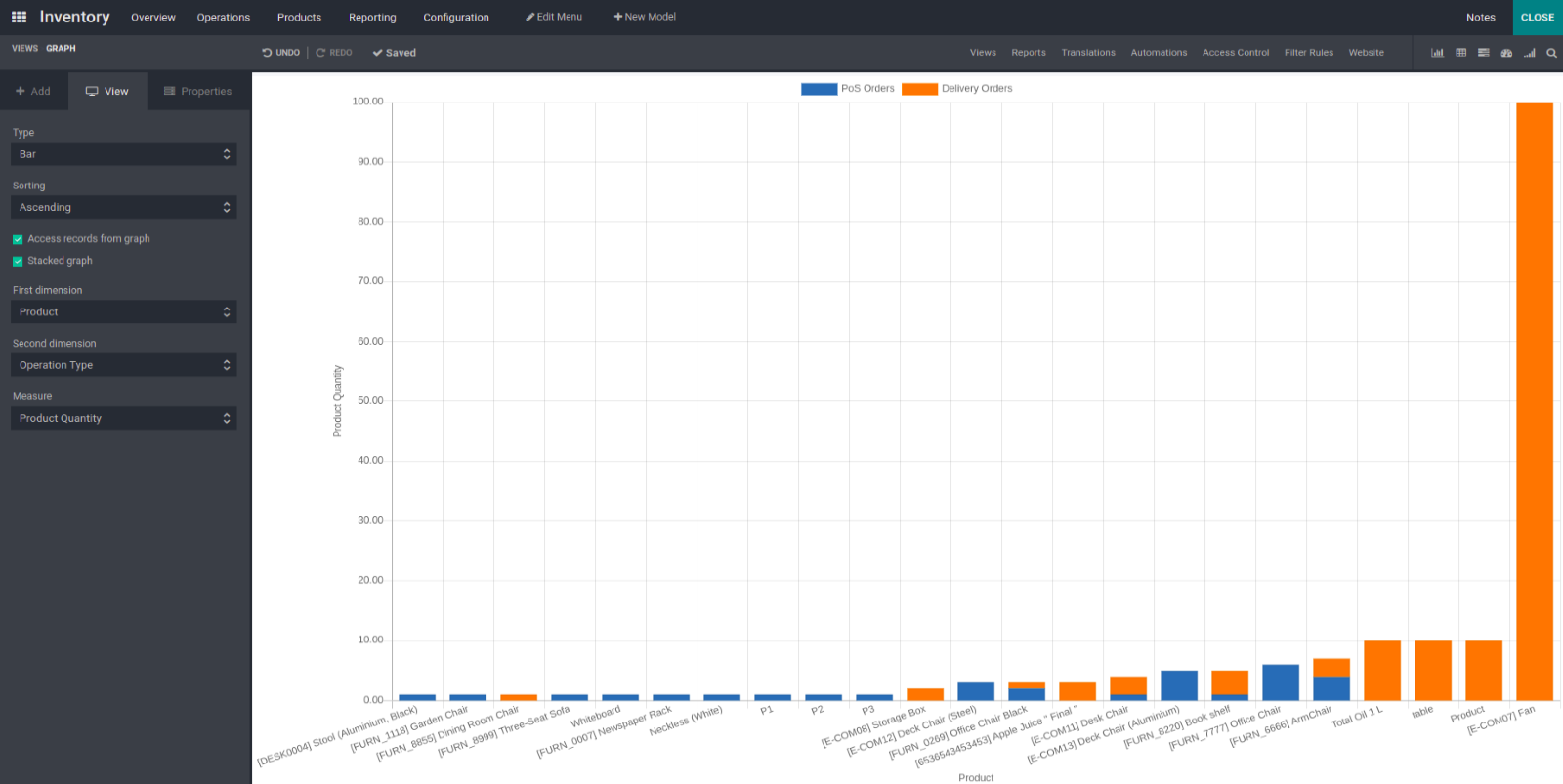 Access Records from Graph
This option enables the users to access the records with a single click on graphs. This action is carried out only in the Bar and Pie chart.
Stacked Graph
This option exists in Bar chart, which is used to view both dimensions.
Non-Stacked Graph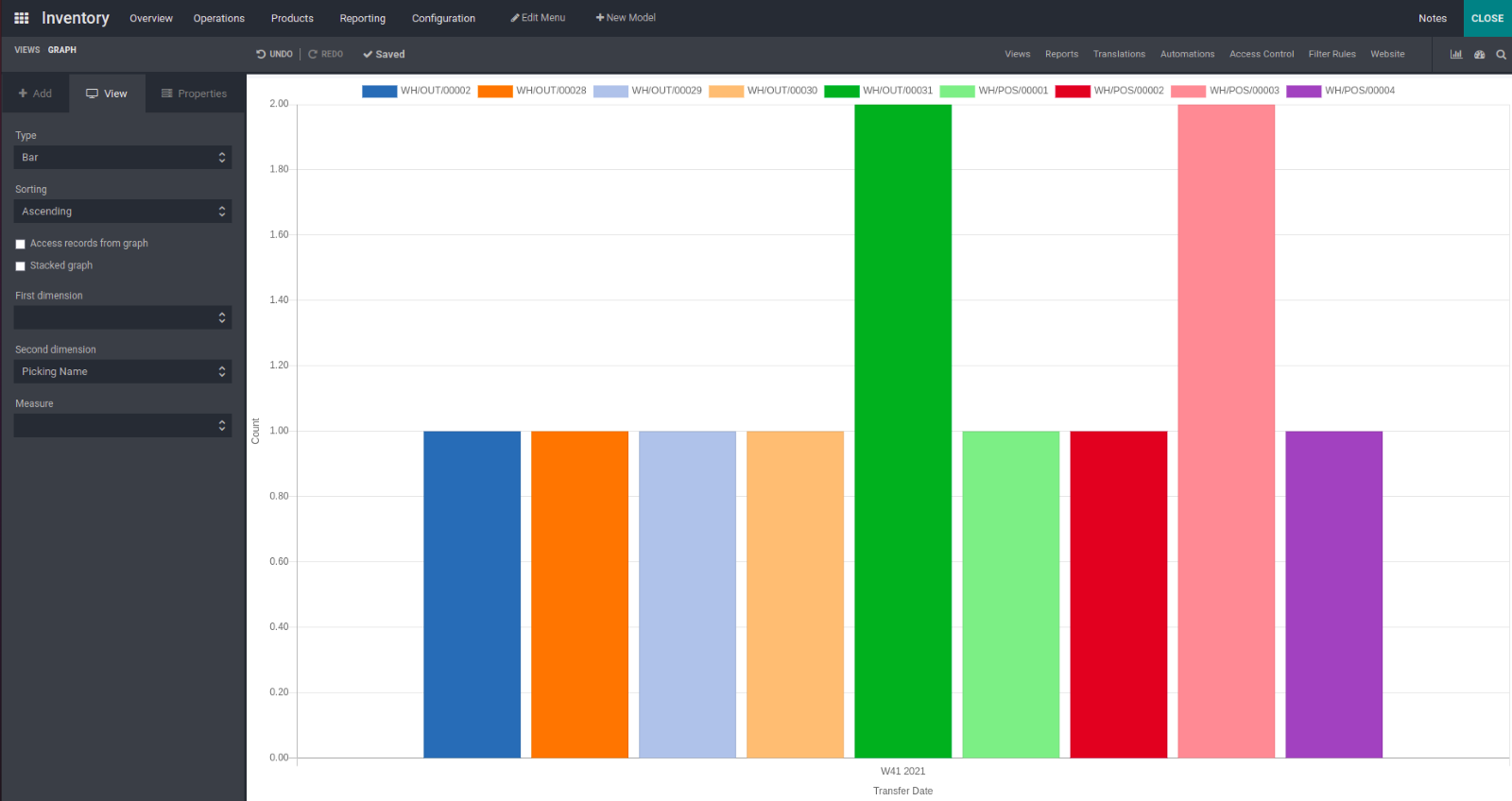 Stacked Graph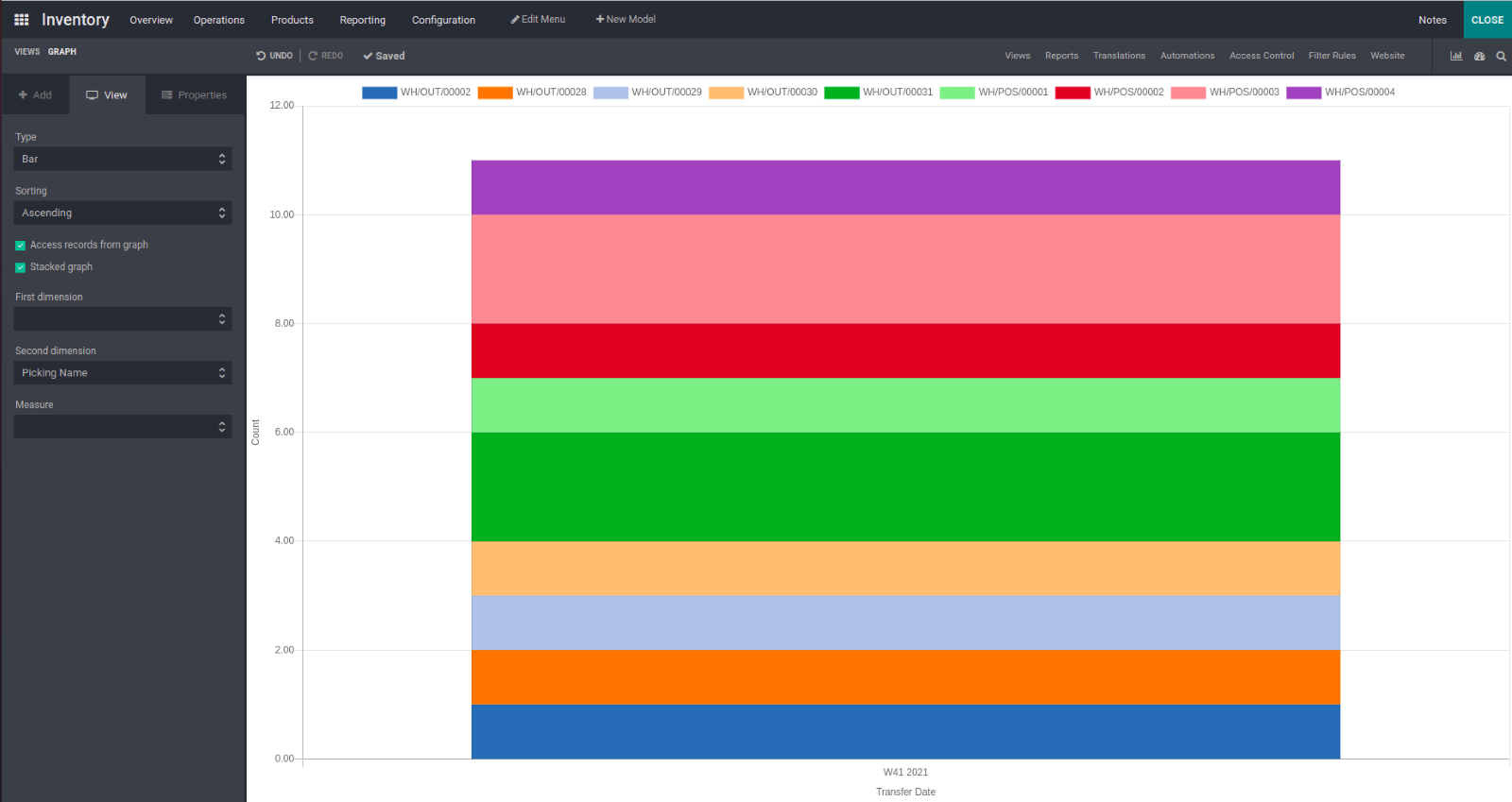 Glance At Both Dimensions
First Dimension: The first dimension allows the users to select a dimension to equate with the second dimension.
Second Dimension: The second dimension enables the users to select a comparative field to compare with the first dimension.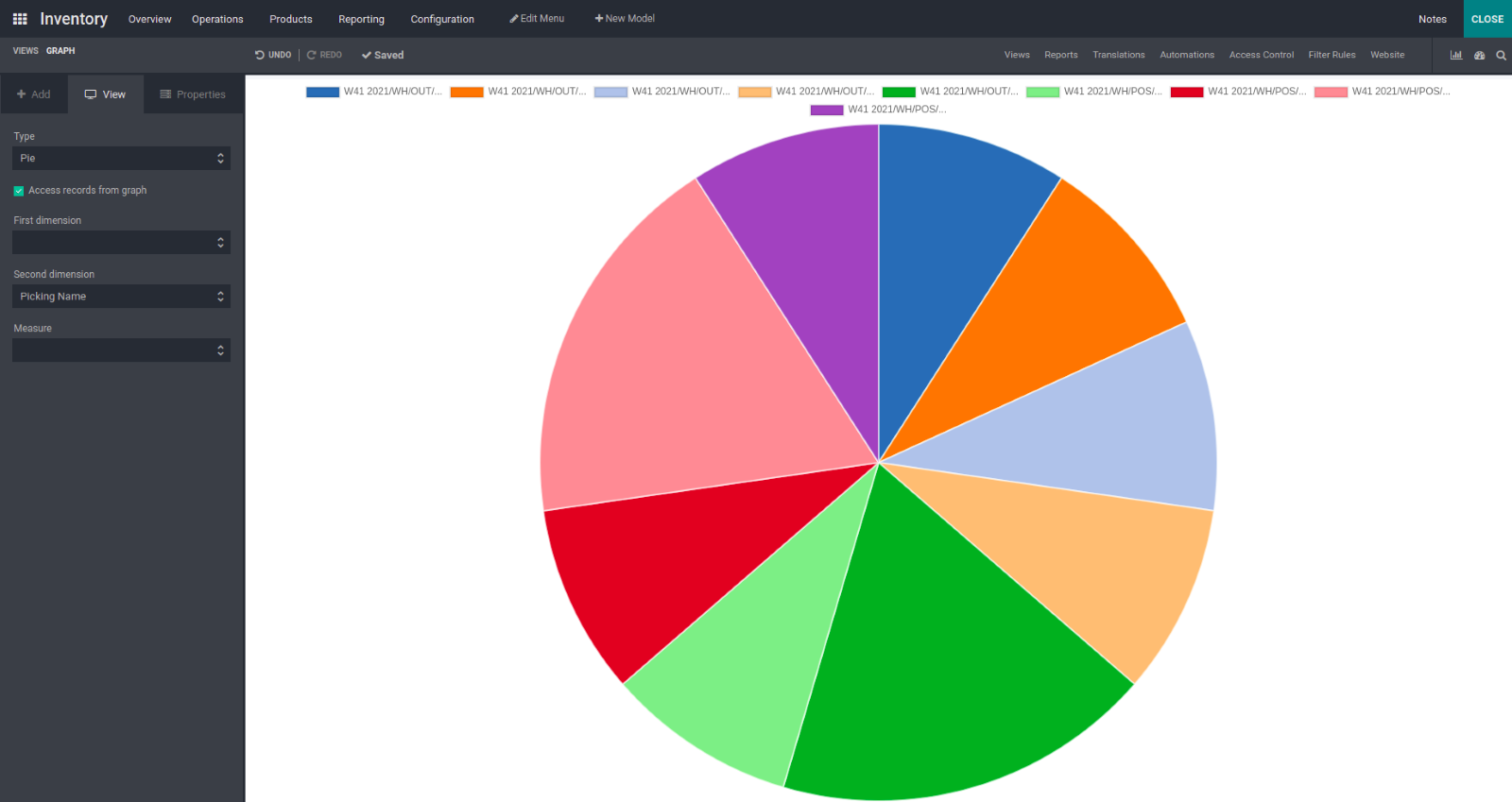 Measure- It allows to set data measurement for all graphs.                                                                                Cycle time (Days)                                                                                                                                                                    Delay (Days)                                                                                                                                                                               Product Quantity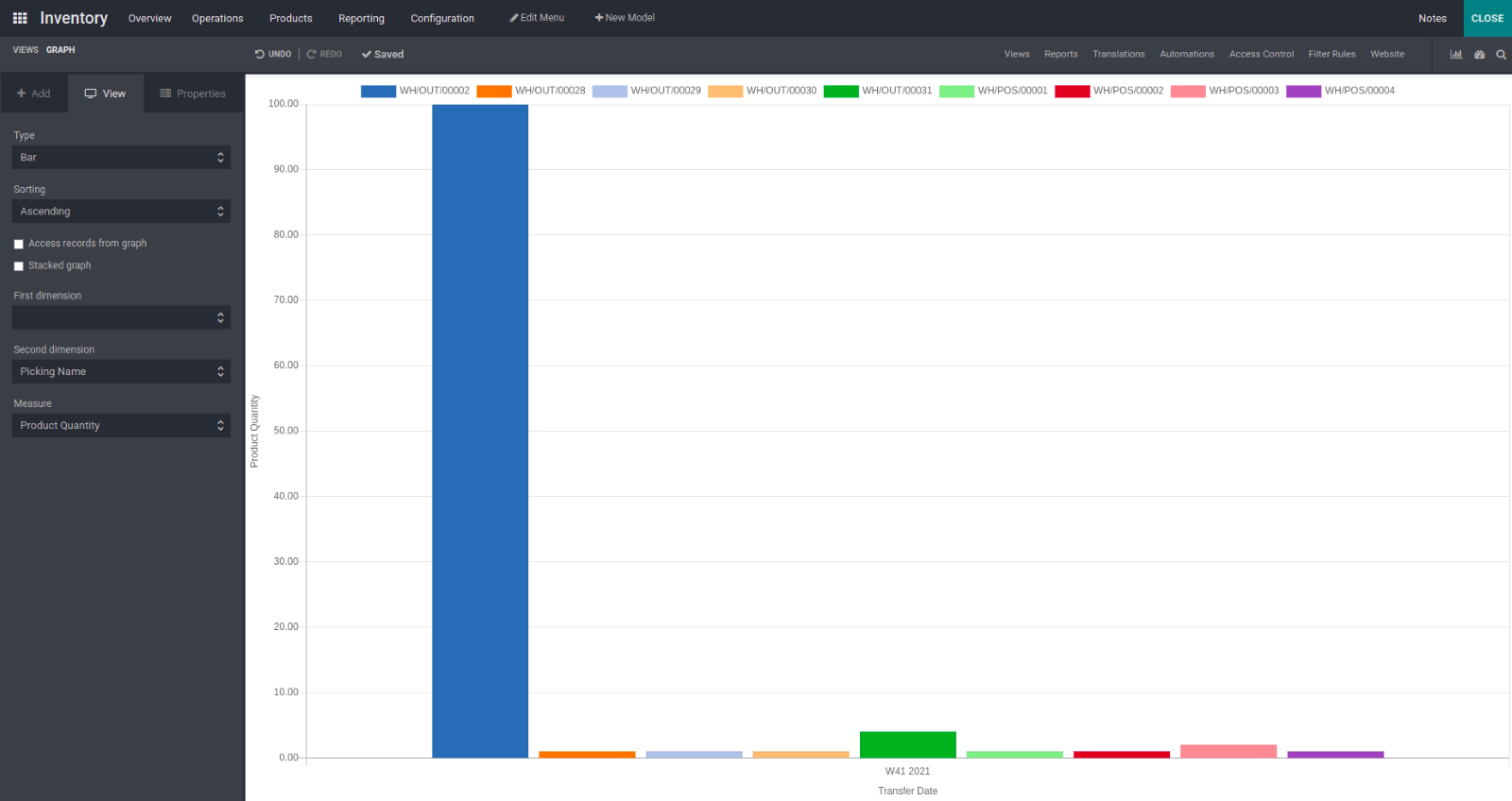 Odoo 15: Cash Rounding
Simple steps to check Cash rounding
Accounting- > Configuration > Settings > Customer invoices > View Cash rounding. These steps take you to the menu of cash rounding under the configuration menu of accounting.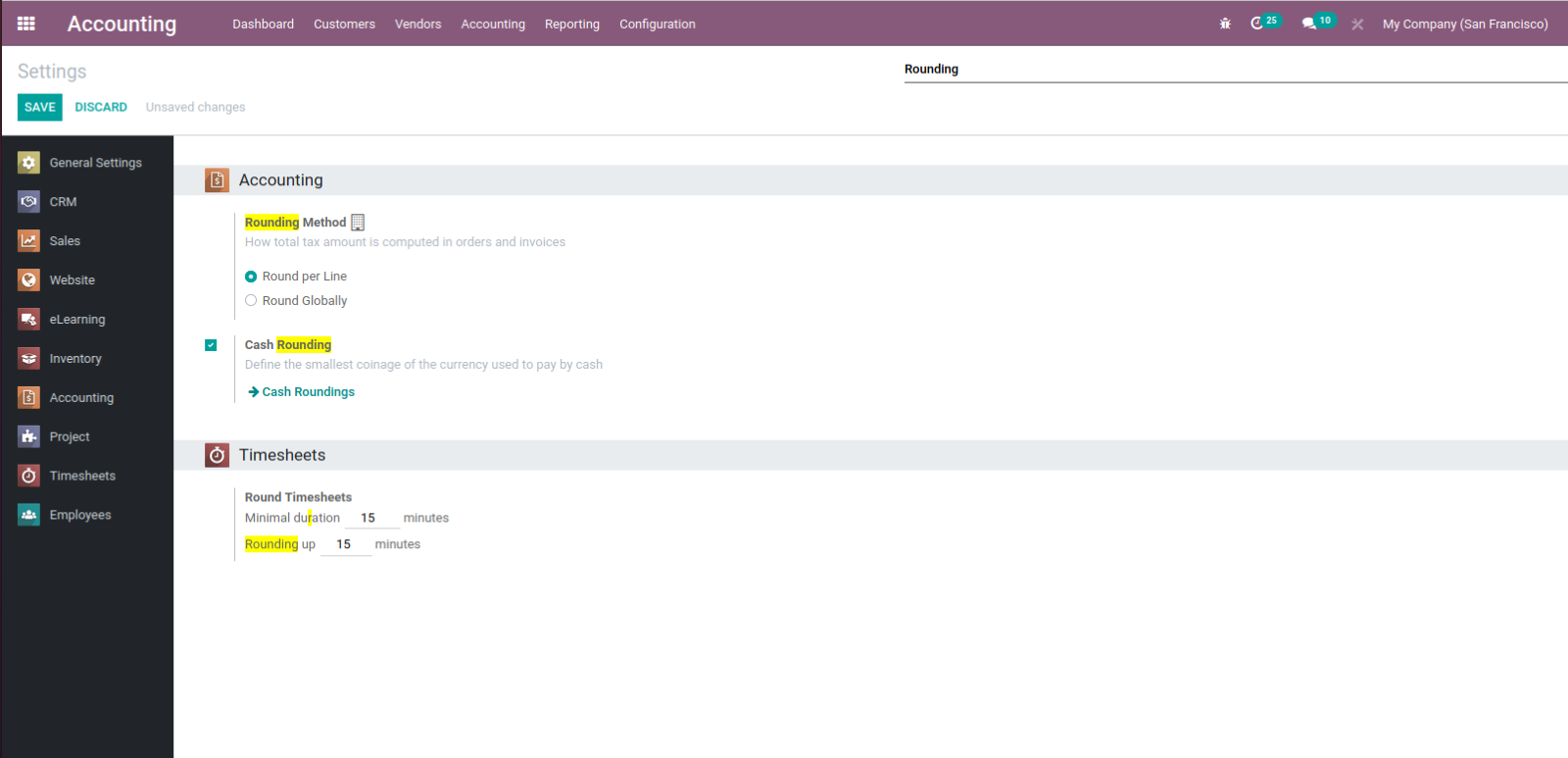 Rounding Precision- > Value to the round of invoice                                                                                              Rounding Strategy- > Modify Tax Amount                                                                                                                    Add a rounding line                                                                                                                                                                If we select Modify Tax Amount, it will adjust in Tax of product.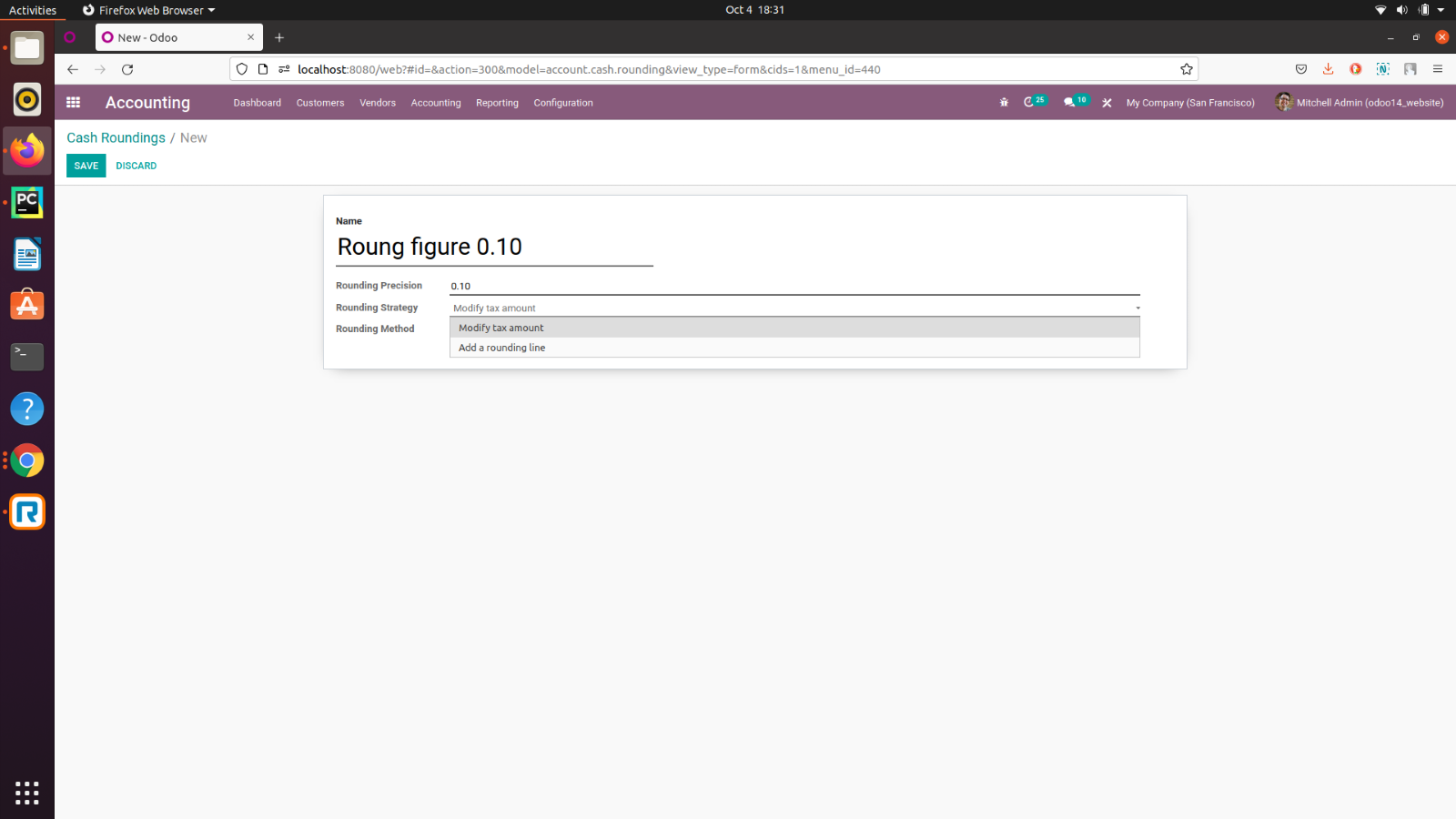 If we select Add rounding line, You need to set a profit and loss account to get the entry of profit or loss.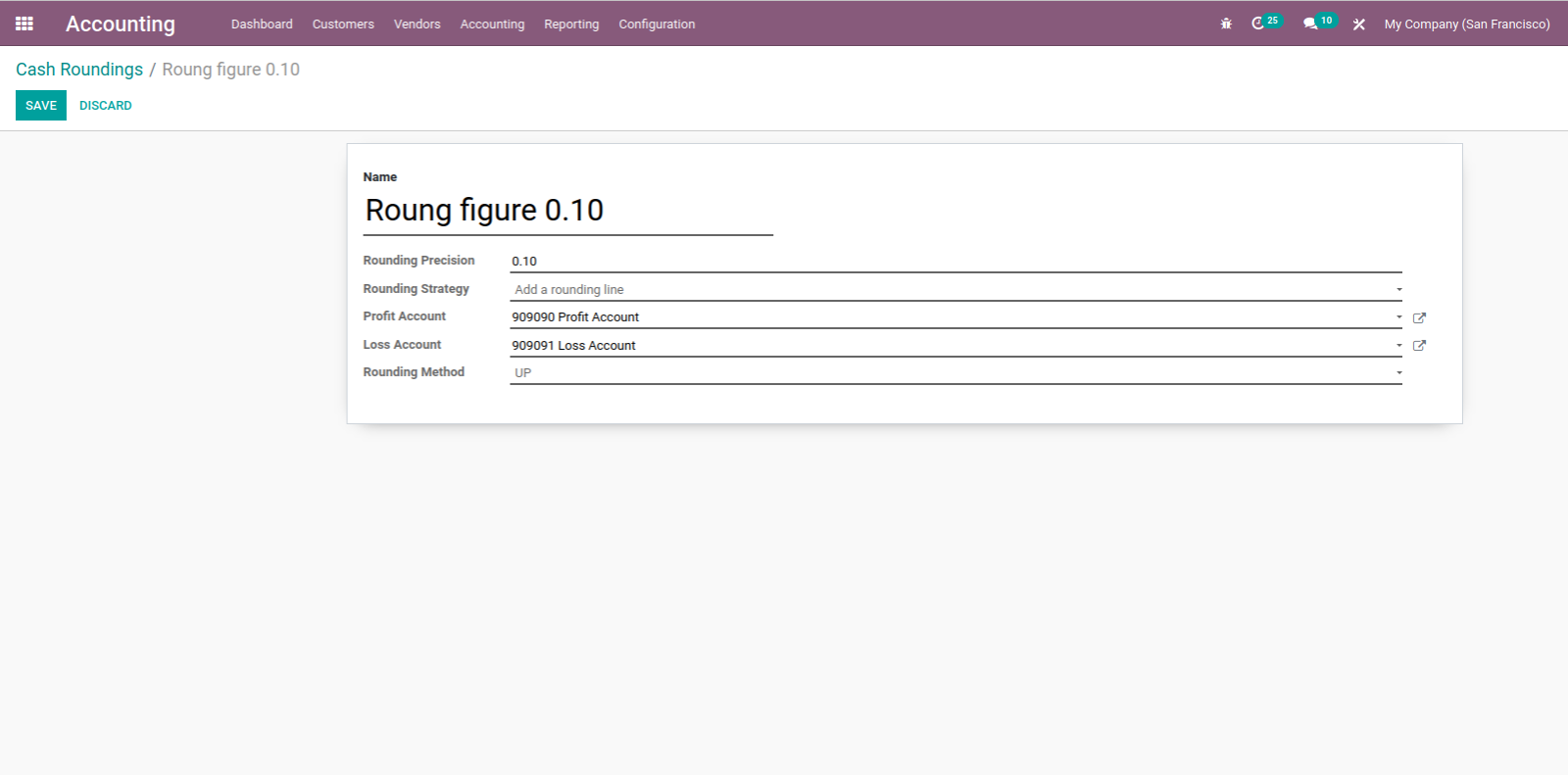 Add rounding line will add rounding line as adjustment of rounding.                                                            Rounding method: UP- > Set max round of value as soon as possible.                                                          Down- > Set as soon as possible min round of value.                                                                                            Half-Up- > It will identify auto Down or Up from the value of the invoice.                                                    Ex. 0 to 0.5 will consider as Down.                                                                                                                                  0.5 or above consider as Up.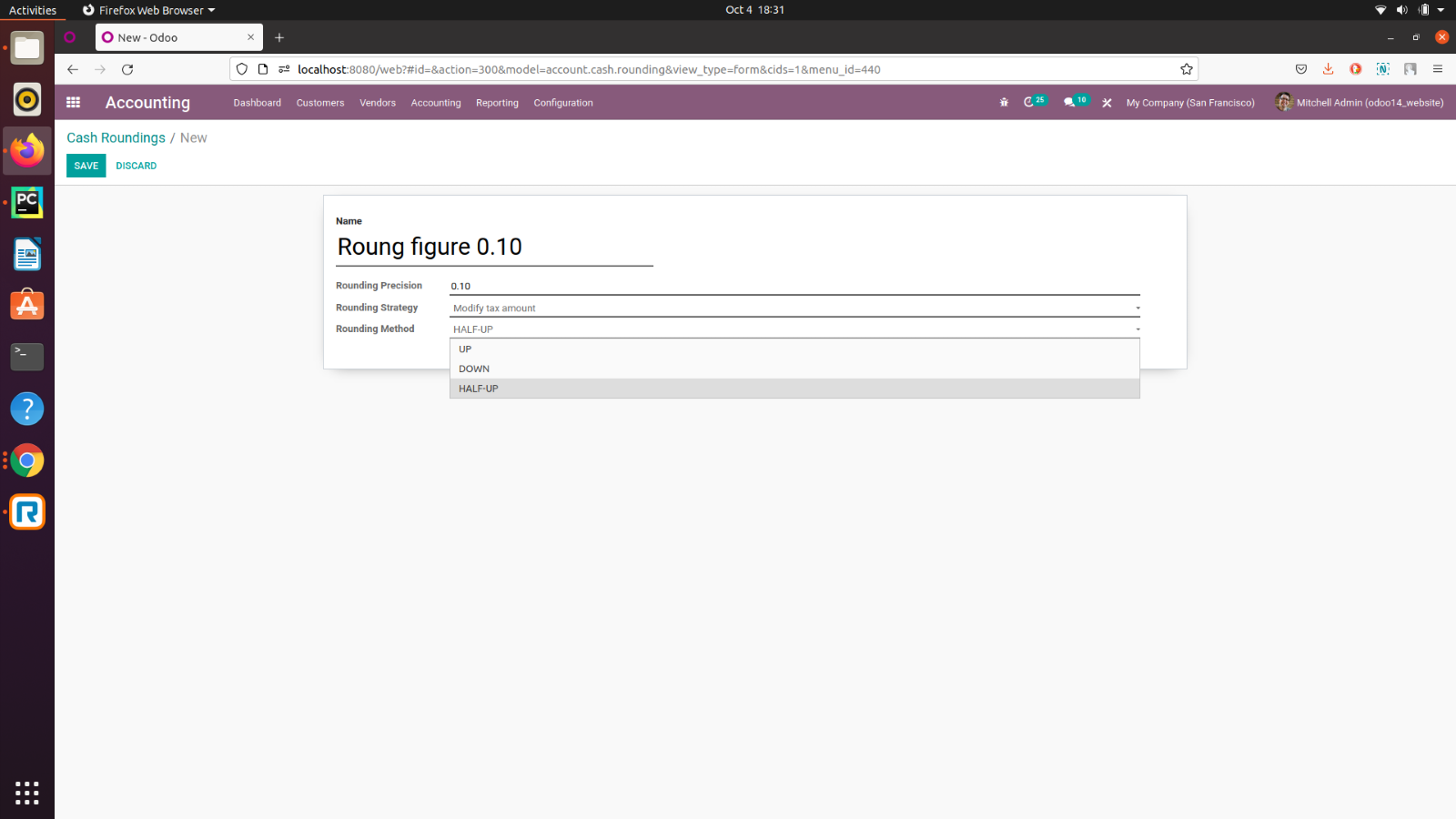 While creating an invoice, select the cash rounding method from the other info tab.
Add Rounding line as Rounding strategy
Add invoice line, it will add new rounding line with Positive (Profit) or Negative (Loss) value according to rounding method. In the below figure, it adds a rounding line of 0.07 to make the rounding total.
Modify Tax amount as Rounding strategy
Here, its strategy adds or minus from tax of invoice to round figure amount. In the below figure, it adds 0.07 in Tax amount to make the rounding total.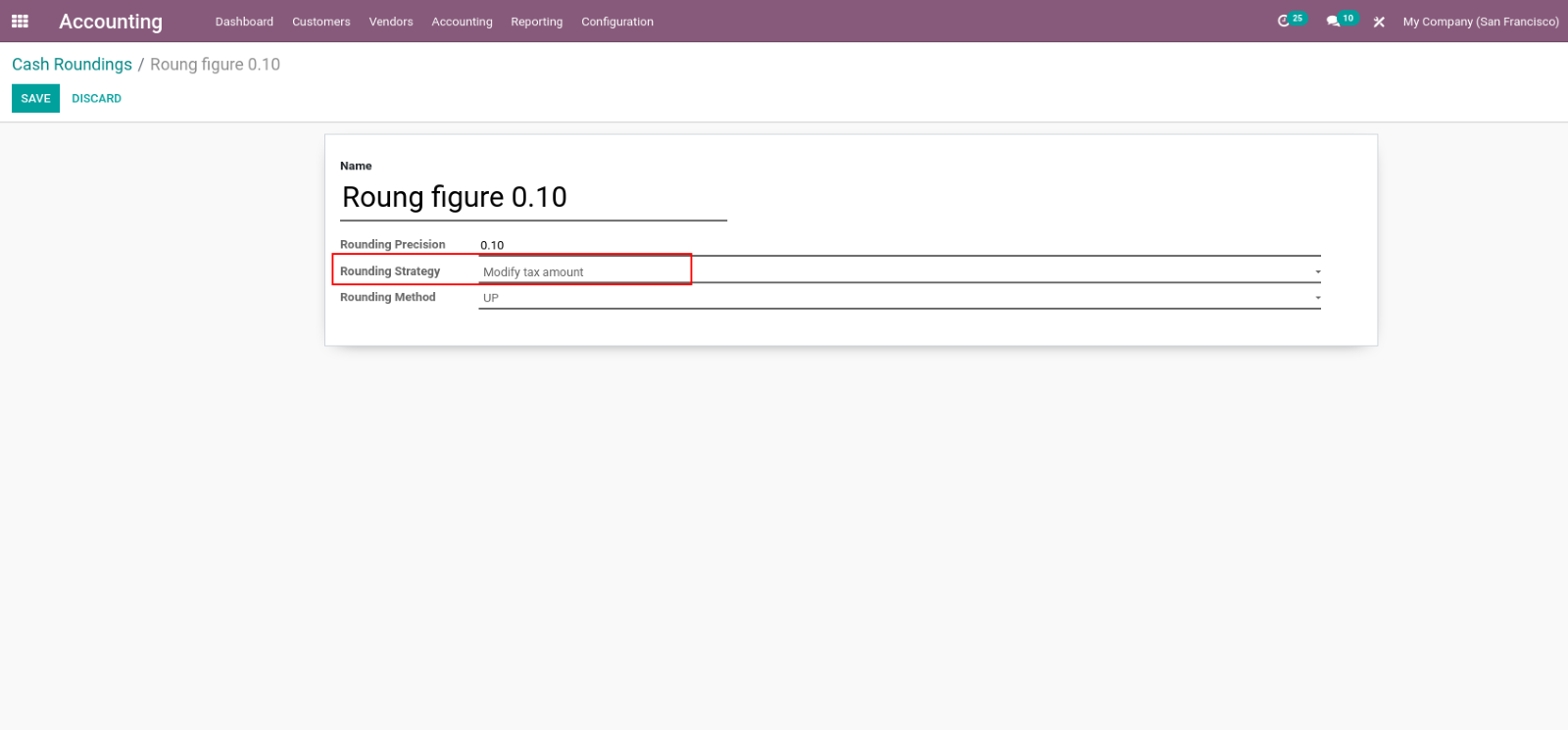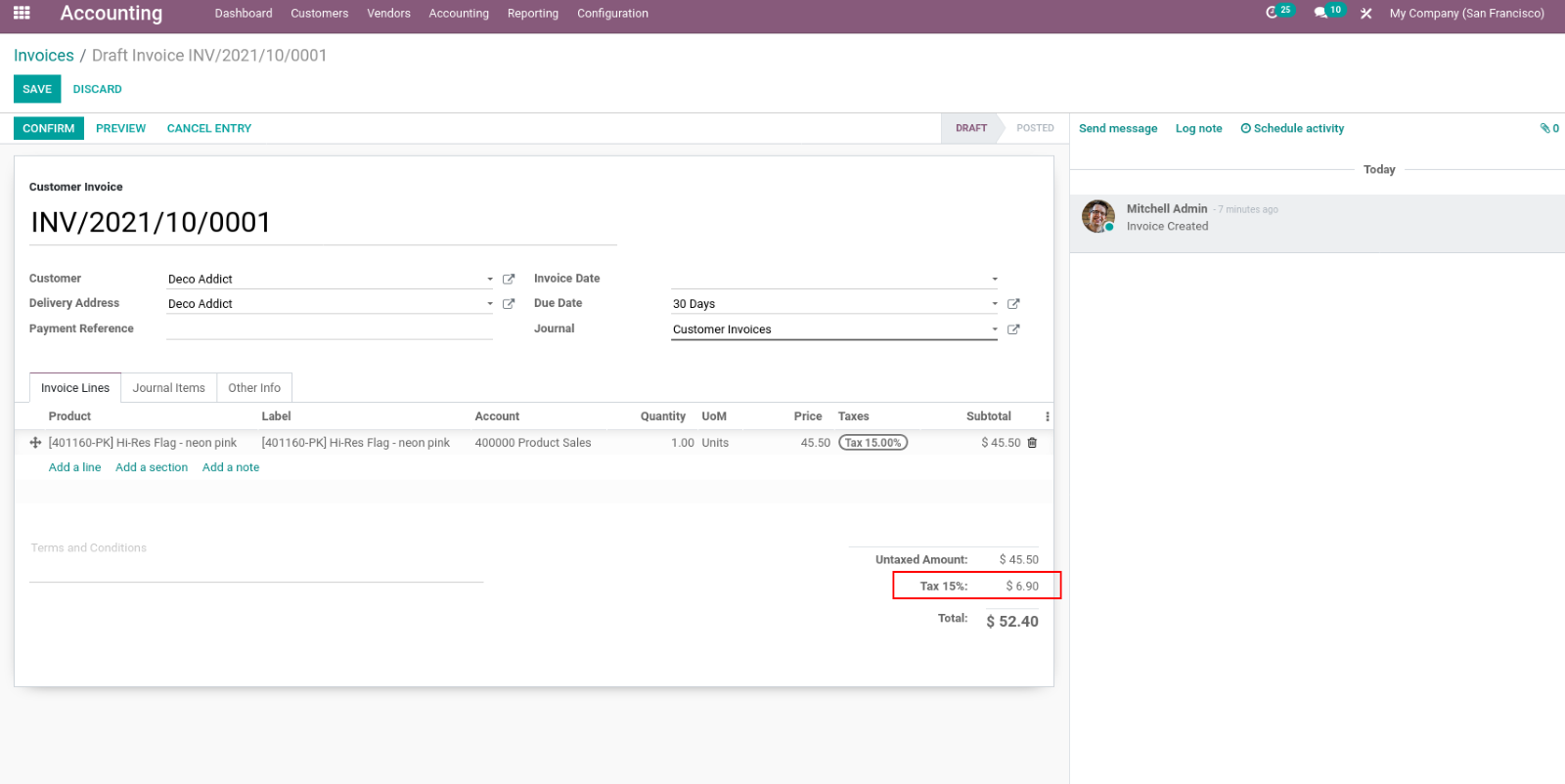 Above both examples have Up rounding methods, thus it take next as soon as possible rounding value.
Now, we are using Down as the rounding method.
Select Down as rounding method in cash rounding. As we can see in the below figure, it takes the previous rounding value, and deduct a Value from the tax.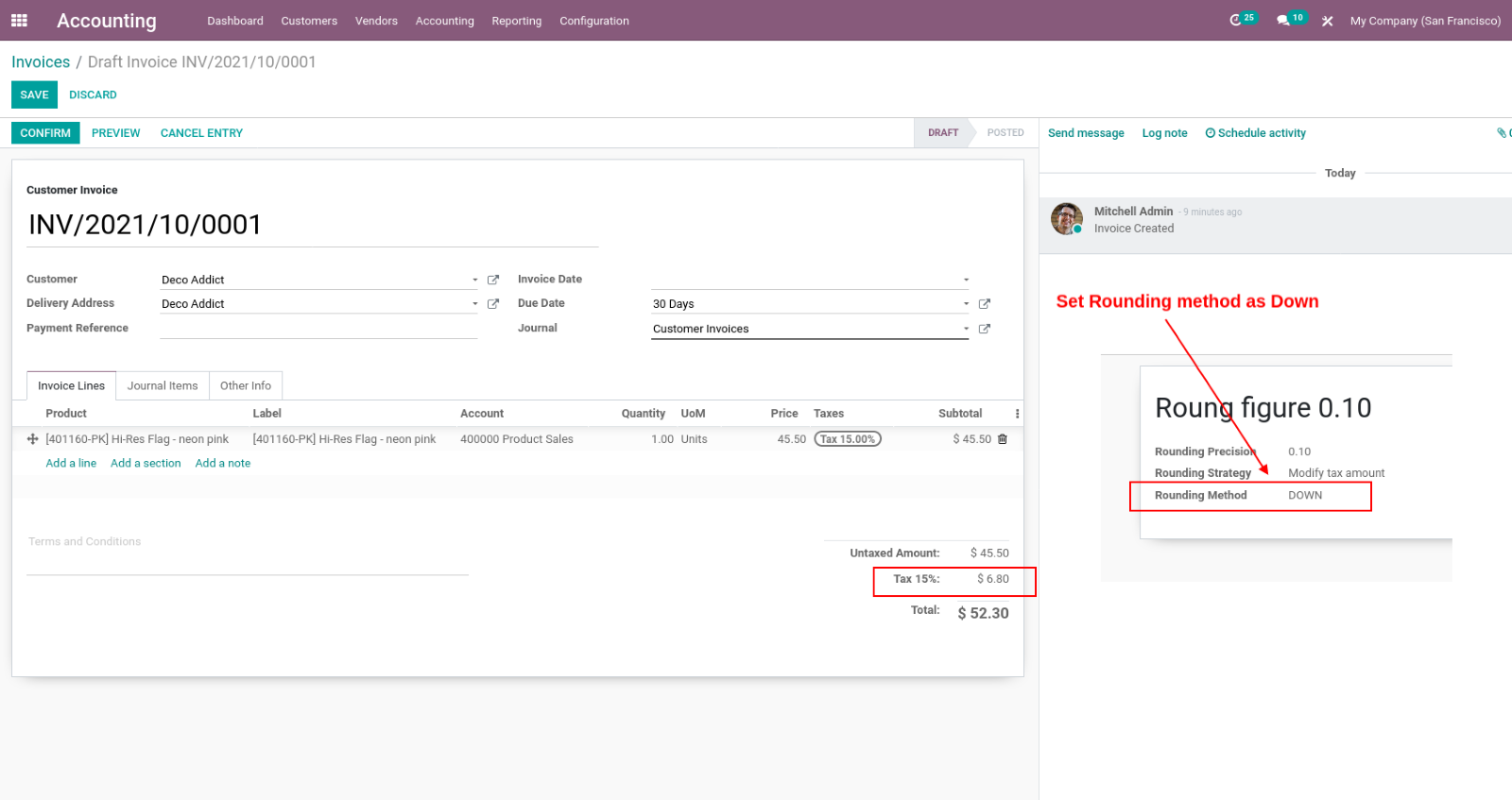 Half-Up as the Rounding method
Select Half-Up as the rounding method in the cash rounding. Now, it will auto adjust Up or Down as rounding methods, which are nearest one, like we can see example in next 2 figures.
Half-Up (1)
In figure Half-Up (1), after adding the tax total, the amount was 52.27 so the adjacent rounding value is 52.30.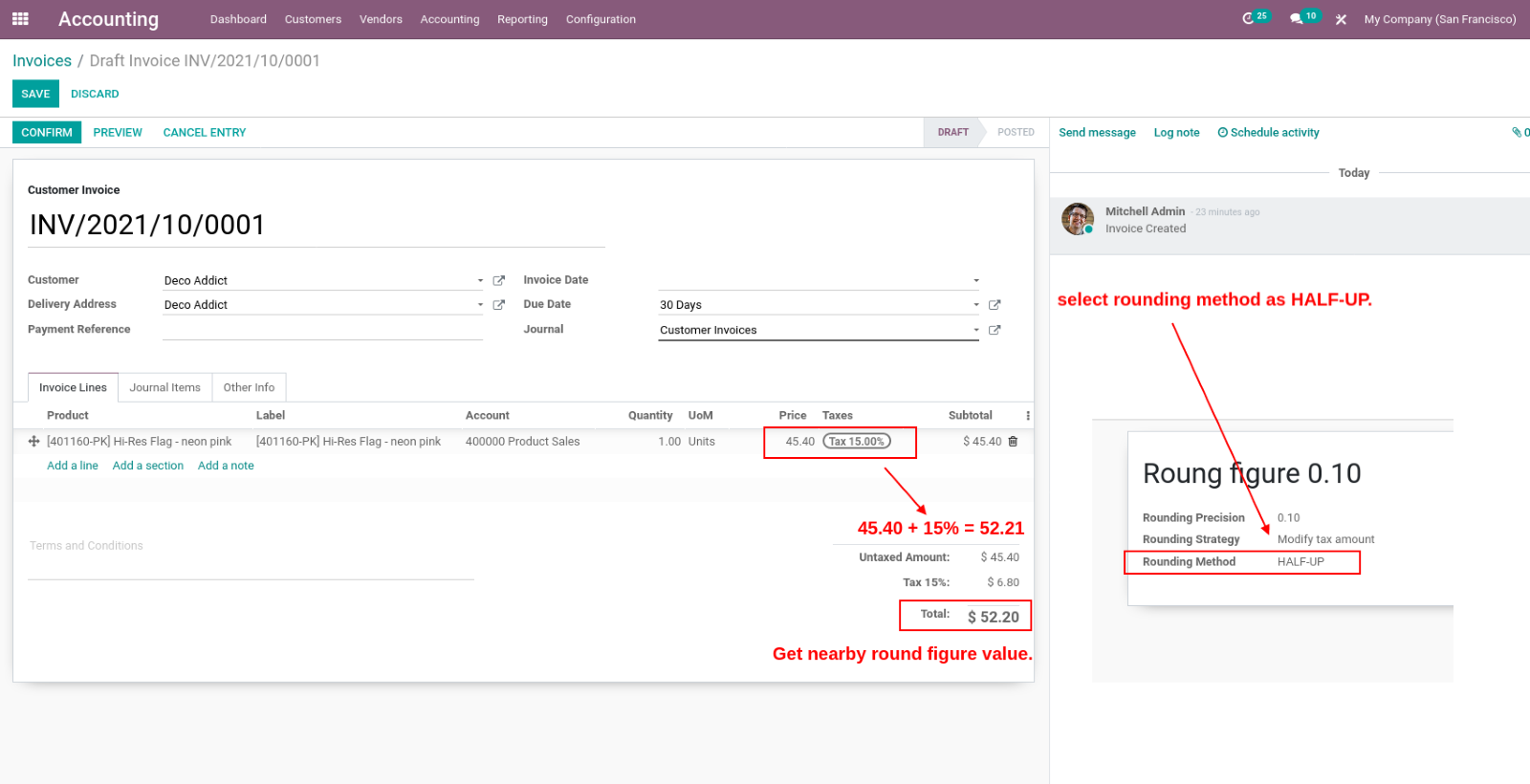 Half-Up (2)
In figure Half-Up (2), after adding tax total, the amount was 52.21 so the nearest rounding value is 52.20.