Odoo 15 has just been released on 7th October with distinct types of new features designed for the various existing modules finally ended the speculation. However, the discussion of the Odoo 15 version and its features will make the headlines for a couple of months. 
In this post, we want to highlight changes made in the Odoo 15 for the Setting module.

With this newly developed feature of Odoo 15, you can effortlessly change the layout of reports. To make easy access to this feature, follow the path mentioned below and check out the images as well.  
Settings => General Settings => Companies => Document Layout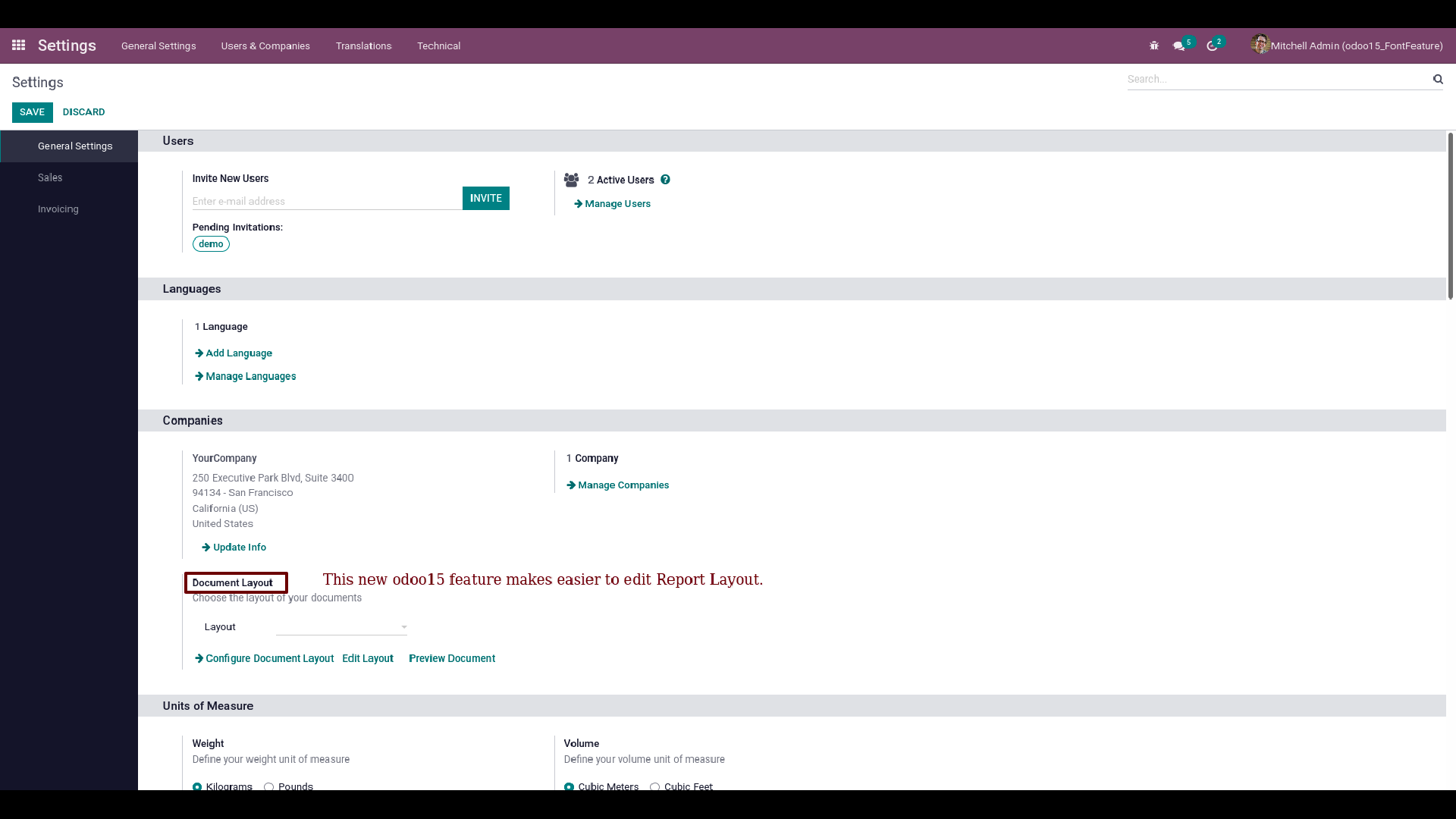 Four Components of this feature are as follow 


Layout 

Configure Document Layout 

Edit Layout 

Preview Document 



It has various 197 default layouts to choose from. It allows users to select any one of the layouts. 


After Selecting one of the layouts, given as an option this button will apply those changes.


It allows the users to view changes of the document made by the selected Layout option.
 


Configure Document Layout 


This option allows users to customize major parts of Reports' Layout through pop – up wizard 

Structure Layout (Light, Boxed, Bold, Striped) 

Fonts (Defaults are - Lato, Roboto, Open Sans, Montserrat, Oswald, Raleway ) 

Company Logo  

Colour (RGB customized color selection) 

Layout Background (Blank, Geometric, Custom [ Provides Feature to set own Image as Background] 

Company Tagline 

Company Details 

Footer 

Paper Format (A4, US Letter, US Batch Deposit) 

Visual Preview of Customization at Right Side 

Download PDF Preview (Button to Download Preview)